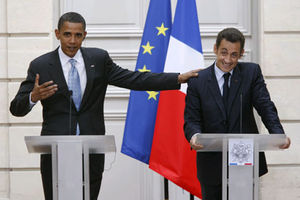 French helicopter gunships launched rocket attacks on President Laurent Gbagbo's palace in Ivory Coast's main city Abidjan on Friday night, according to witnesses.
The strikes came hours after mortar rounds and a rocket were fired at the residence of the French ambassador in Abidjan by pro-Gbagbo forces.
A spokesman for Mr Gbagbo denied that the French ambassador's residence had been attacked.
"The Ivory Coast government believes France is looking for a pretext to resume bombings on the presidential palace," Toussaint Alain, a representative for Mr Gbagbo, said in Paris.
"If there are attacks on the embassy, it's not Gbagbo's forces. Nobody has been attacked."
The UN peacekeeping head said Mr Gbagbo's forces had regained ground in Abidjan and fully control the Plateau and Cocody areas.
Alain Le Roy said the Gbagbo camp had used a lull on Tuesday for peace talks as a "trick" to reinforce their positions and that they still had heavy weapons.
The scale of ethnic massacres in Ivory Coast began to emerge on Friday after UN investigators found over 100 dead bodies, some burned alive and others thrown down a well in the space of 24 hours.
Forces loyal to the newly elected and internationally recognised leader, Alassane Ouattara, are under suspicion of carrying out some of the murders, as well as those of his opponent, Laurent Gbagbo.
A spokesman for the United Nations said human rights workers operating in Ivory Coast now feared they were witnessing a cycle of revenge killings.
There were reports of members of ethnic groups loyal to either side being singled out to be killed or saved.
On the country's borders, refugees also spoke of rape being used as a weapon against women and children, again by both sides as well as by opportunist militias.
A week ago, more than 200 bodies were found in the town of Duékoué. The latest bodies were found on Thursday in Duékoué and nearby towns in the west of the country, Guiglo and Blolequin.
"With these very ugly tit-for-tat killings in Duékoué and 100 more bodies found just yesterday, you're talking about quite an escalation," the United Nations spokesman, Rupert Colville, told a press conference in Geneva.
Troops loyal to Mr Ouattara have surrounded Mr Gbagbo in Abidjan as the stand-off between the two men, which has lasted since both declared victory in the presidential election at the beginning of December, reaches a climax.
Mr Ouattara's claim is recognised by the United Nations and most of the international community.
Subsequent fighting has exposed the growing lawlessness of the last decade of Mr Gbagbo's rule, including sexual violence, according to Human Rights Watch. Aid workers say the conflict has also triggered local violence that is separate from the broader politics.
But it has also drawn into question the human rights credentials of Mr Ouattara, a former prime minister who had previously been a senior official at the International Monetary Fund.
Corinne Dufka, an HRW researcher, told the UN media unit that the group had documented numerous cases of rape by pro-Gbagbo forces who singled out political and ethnic opponents, as well as some cases by pro-Ouattara forces.
One woman told an aid worker she had been forced to watch while her four-year-old daughter was raped. In other cases women were raped in front of their children.
Some of the violence has been simple banditry. One woman arrived in neighbouring Liberia naked, having had her clothes stolen, along with her three children under the age of six. Her sister had died en route.
In the killings revealed yesterday by the UN, 15 bodies were found in Duékoué, some of which had been burned alive. Most or all were thought to be from the Gwere tribal grouping, which supports Mr Gbagbo, and to have been killed after Mr Ouattara's troops took the town.
In a massacre last month, 100 members of the Dioula group, which supports Mr Ouattara, were killed allegedly by Mr Gbagbo's forces in Duékoué. The 200 killed last week appeared also to be Gwere people.
In the killings in Blolequin, however, where 40 bodies were found, members of the Guerre tribe had been singled out and saved. A further 60 bodies were found in Guiglo.
The Dioula, who are Muslim and concentrated in the north of the country, are Mr Ouattara's power base. Southern Ivory Coast, which is Christian and animist, broadly supports Mr Gbagbo.
Mr Colville said further reports of killings were still to be investigated.
Mr Ouattara and his lieutenants have seemingly acknowledged the allegations against his troops by calling on them to observe discipline. Mr Ouattara gave a television broadcast on Thursday night in which he called on his forces to "be exemplary in their behaviour and to abstain from any crime, any violence against the population or any act of pillage".