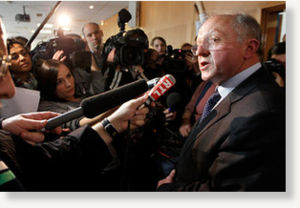 French authorities say they have found the engine and parts of the fuselage of the Air France plane that crashed in 2009 off Brazil's coast.
Nearly two years after an Air France plane plunged into the Atlantic off the coast of Brazil, killing everyone aboard, authorities say they may have found the most important discoveries yet.
The new findings have given fresh hope to victims' families - and to the aviation industry overall - that the cause of the crash might yet be determined and thus allow authorities to take steps to prevent future incidents. The Airbus 320-303 was en route to Paris from Rio De Janeiro on a night flight in June 2009 when it crashed, killing all 228 passengers and crew members.
"From the human aspect, there is obviously a desire for closure," says Robert Mann, president of R.W. Mann & Company, an aviation consultancy in Port Washington, N.Y. "And in this case, as in numerous others, there is a really pressing need to understand what happened."
France's investigating authority said today on local French radio that the engine and parts of the fuselage have been located, while the Environment Ministry said that bodies have also been found. Until now, despite using the high-tech equipment and unmanned submarines, significant wreckage had remained elusive in a deep sea area of steep mountain terrain.
"We have more than just traces, we have bodies... Identification is possible," Environment Minister Nathalie Kosciusko-Morizet told French radio Monday, according to Reuters.
Finding the engine could help investigators understand why the plane crashed, says Mr. Mann, and also lead authorities closer to digging up the
"black box" data recorders
. So far authorities have determined, from
other wreckage found
, that the plane hit the water intact, not breaking first in air.
"It seems that we have discovered the wreckage site. Up until now we had only found a few elements of debris floating on the surface," Jean-Paul Troadec, head of the French Bureau d'Enquêtes et d'Analyses (BEA), said on French radio, according to CNN.
Two years of search and simulation have not led to a definitive cause of the crash of the plane, which passed through a thunderstorm off the Atlantic coast just a few hours after taking off. The newest findings came during a search led by the Massachusetts-based Woods Hole Oceanographic Institute, which has
deployed
three autonomous underwater vehicles for the operation.
Such lengthy investigations are not uncommon. In some cases terrain is so vast and complicated that it takes years to locate wreckage and keys to crashes. In the current case, authorities have spent tens of millions of dollars to search depths of 10,000 feet, in an area of about 3,900 square miles, several hundred miles off Brazil's northeastern coast.
"There is a desire to understand why things fail as a means of trying to preclude similar circumstances," says Mann. "It is a preventive-oriented quest... and people go to very great lengths to prevent another loss of life like this."