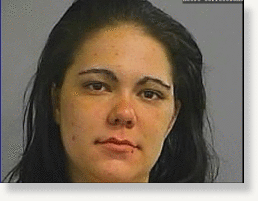 After locking her two children outside during Monday's severe storms, Louisville woman Ashley White is charged with endangering the welfare of a minor, police say.
While the children, ages 1 and 3, were locked out near an "extremely high traffic street," White was reportedly sleeping. Police say although Good Samaritans knocked on her door, there was no answer.
According to CBS affiliate WLKY, the children remained outside in the rain for 10-15 minutes before neighbors heard them crying from across the street.
Dany Jones told WLKY that her daughter brought the children home and called the police, then fed and bathed the kids.
"The little girl, she said, 'I want my mommy. I want my mommy,' and I felt so bad," Jones recalls. "Oh, that poor child."
"They were filthy, hungry and very scared," said Louisville police spokeswoman Carey Klain, according to WBRD. "We're just fortunate we have neighbors who were paying attention and were able to assist and help these children to safety."
At first White told the authorities that she had been sleeping and hadn't realized her children had been locked out. According to the citation, she later admitted to a painkiller addiction, saying that she "needs help."
Child Protective Services was notified and the children were taken to Home of the Innocents.