While fears have been largely dismissed, many still recommend minimal exposure to the rain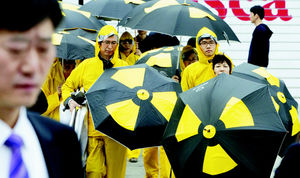 The Korea Institute of Nuclear Safety (KINS) and the Korea Meteorological Association (KMA) are causing confusion and unease with shifting statements on whether radioactive material from Japan's Fukushima nuclear plant will mix with rain and fall in South Korea, with heavy rain forecasted nationwide for Thursday.
The KMA forecasted Wednesday that due to a low pressure system, 20 to 70mm of rain would fall starting early morning Thursday through Friday nationwide. KINS President Yun Choul-ho held a press conference with KMA spokesman Kim Seung-bae at the Central Government Complex on Sejongno.
"According to the KMA's atmospheric models, there is no possibility that radioactive material released from the Fukushima nuclear plant would spread via the winds from the East China Sea to southwestern South Korea," said Kim. This would mean "radioactive rain" will not fall.
On Monday, however, KINS said during a press conference that its own models showed that minute amounts of radioactive material could spread into Korea's airspace on Thursday. They also showed a screen from their mock test. The KMA, too, also distributed a forecast that due to a high-pressure system over southern Japan, southwesterly air currents would drive rain clouds over the West Sea towards inland Korea on Wednesday or Thursday. Monday's press conference was held after a Norwegian atmospheric research institute released a prediction that radioactivity would spread over Korea around Thursday, and was interpreted as a belated acknowledgement by both the KINS and KMA that "radioactive rain" would fall.
"The Norwegians had attached a proviso to their data explaining that it was less precise," said Yun. "Due to the lack of base data, for instance, they applied the amount of radiation released by Chernobyl."
"KMA and KINS had agreed to base future predictions on the KMA's models," Yun continued. "Since the KMA says there is no chance that radioactive material will directly enter South Korea, KINS can only agree, however, as a precaution a metering station in Jeju Island will conduct radioactivity tests every three hours starting at 9 p.m. Wednesday."
According to data predicting the spread of radioactivity submitted by the Japan Meteorological Agency on Monday at the request of the IAEA, the level of radioactivity in South Korea's southwest would be higher than even some inland areas of western Japan on Thursday.
In response, Yun said he had not seen the data, but since the scale value of radiation throughout Japan was slowly falling, even if winds blew towards Korea, the amount of radiation that would come would be extremely miniscule.
The Asian Citizen's Center for Environment and Health (ACCEH), however, put out an advisory warning citizens to avoid the rain.
"Since cancer-causing materials such as radiation do not have a minimum exposure level that causes health problems, even a small amount of exposure could cause problems, so the best prevention policy is to reduce radiation as much as possible," said the ACCEH. "The best prevention policy is to reduce your exposure to radiation as much as possible."
In its advisory, it called on citizens to avoid the early rains, when the radiation is at its highest; shower after returning home; wash and dry clothes struck by the rain, but do not keep them inside.
Choi Ye-yong, director of the center, said, "The government should issue at least a minimum warning in accordance with prevention principles, but it has not yet even used the phrase, 'avoid unnecessary exposure.'" Choi expressed misgivings that the government was avoiding issuing an advisory due to worries that it might cause problems with its policy of expanding nuclear energy.
Ha Mi-na, professor of the Medical College of Dankook University specializing in preventative medicine, said, "There is no need to be afraid, but since radioactive material could cause cancer, international health organizations have advised citizens to avoid exposure as much as possible. Children and pregnant women in particular should carry umbrellas and rain gear."