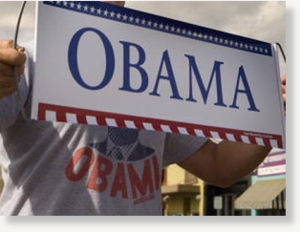 A man who set up a table with political literature and a sign opposing President Barack Obama was attacked in San Francisco's North Panhandle neighborhood, police and witnesses said Tuesday.
Initial police accounts had indicated that the man had a sign supporting Obama, but witnesses later said it was an anti-Obama sign with a Hitler mustache drawn over the president's face.
The attack happened around 11:30 a.m. Monday in the 1200 block of Fell Street, where the victim, a 29-year-old Daly City man, had set up his table, said Capt. Denis O'Leary of the SFPD's Park Station.
A man and woman approached the victim, tore the sign and shook the table, causing the political literature to fall to the ground.
The attackers also kicked the man in the hand, O'Leary said.
The SFPD captain said he did not know whether the victim was a supporter or opponent of Obama, but a witness who was in the area Monday said the victim was a supporter of Lyndon LaRouche, a left-wing political activist who opposes the president.
The witness, Wayne Friday, a former San Francisco police commissioner and local journalist, said he was stopping by the Bank of America at Fell and Broderick streets and saw a sign that read "Impeach Obama" with a picture of the president with a Hitler mustache.
Friday said he did not see the attack happen.
The two attackers, who had dogs with them, fled south on Broderick Street before officers arrived, and hadn't been located, O'Leary said.
The victim said the pair made "no mention of a political affiliation," O'Leary said. "It's just unusual that they took offense to him and his sign."
The first attacker was described as an Asian man with long black hair who was wearing a gray baseball cap, gray sweatshirt and dark jeans, O'Leary said.
The other was a white woman who is about 5 feet 6 inches tall with long, curly brown hair, he said.
Anyone with information about the case was asked by investigators to call the Police Department's anonymous tip line at (415) 575-4444 or send a tip by text message to TIP411.