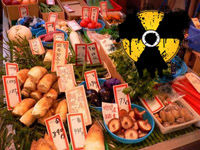 India has imposed a three-month ban on imports of food articles from the whole of Japan on fears that radiation from an earthquake-hit nuclear plant was spreading to other parts of the country, becoming the first country to introduce a blanket ban.
The ban comes in the fourth week of unsuccessful attempts to safely secure the Fukushima nuclear power plant in central Japan crippled by an earthquake and tsunami in what could be the world's biggest nuclear disaster in a quarter of a century.
"Import of food articles coming from Japan stand suspended with immediate effect for a period of three months or till such time as credible information is available that the radiation hazard has subsided to acceptable limits," a statement from the Ministry of Health and Family Welfare said.
"After detailed discussions, it was concluded that since the radiation is spreading/expanding horizontally in other parts of Japan, it may result in further radioactive contamination in the supply chain of food exports from Japan," the statement added.
India mainly imports a small volume of processed food items, fruits and vegetable from Japan.
Japan said on Tuesday it was considering imposing radioactivity restrictions on seafood after contaminated fish were found in seas well south of the damaged nuclear reactors.
A number of countries have imposed bans on dairy products, meat, fish and other produce from areas near the crippled nuclear power plant. Many others are monitoring radiation levels in goods imported from Japan.
Weekly reviews will be carried out by India's food safety authority, the statement said.
(Reporting by Ratnajyoti Dutta; Writing by Henry Foy; Editing by Jo Winterbottom)