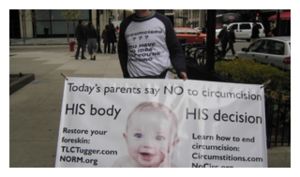 TLC is once again taking American audiences between the sheets for an intimate exploration of medical abnormalities, unusual fetishes and the science behind sexual attraction in the second season of "Strange Sex."
The 10 episode docu-reality series profiles a range of individuals brave enough to divulge the trials and tribulations of their various conditions, including a Muslim couple who waited until their wedding night to have sex only to discover they were unable to consummate their nuptials, a woman born with two vaginas dealing with the possibility she will not be able to have children, and, in the debut episode, we'll meet Ron Low, a typical suburban husband and father from Chicago on a mission to help men restore their foreskin.
"In 2001 I realized I had to do something to improve my sex life because it was getting to be dull. I researched online and found out there are a lot of men restoring their foreskins and I decided to do it too," Low, an industrial engineer, told FOX411's Pop Tarts column. "The tapeless device I wanted wasn't available, so that got me tinkering in my own basement to make a device based on some ideas I had seen online and came up with a way to make these things to meet my needs. I hope when you see (the show) you get an appreciation for how foreskin restoration really benefits men. It makes up for a lot of damage."
Low and his wife now work full-time on the procedure, and in the last year they helped more than , men restore their foreskin. Furthermore, Low is using his new-found public platform to advocate against infant circumcision on Capitol Hill.
"We want to see the law that presently protects baby girls stripped of gender add language so that it protects all infants from cosmetic surgery. There is not any medical association on earth that suggests routine infant circumcision, it is a strictly cosmetic procedure," he explained. "We need to protect people from things if they cannot consent to them if it is purely for cosmetic purposes."
According to Los Angeles-based psychologist Dr. Nancy Irwin, "Strange Sex" will also provide a profound sense of relief to those with atypical sexual predilections, in addition to providing treatment techniques and resources.
"Hopefully, the show will underscore the fact that no one chooses to have these conditions, and it takes a very courageous person to share this intimate issue and ask for help," she said.
While the show deals with an assortment of unconventional issues, it has clearly captivated American audiences. The season one premiere attracted an average of 1.2 million viewers.
"We send very confusing messages through the media; teens and girls are highly sexualized at an alarmingly earlier age now, yet our sex offender laws and punishments are stricter than ever. No wonder offenses are higher," Irwin added. "This is why people tune in to a show like this; we are curious about sex, and want some real answers that are not available through commercial means."