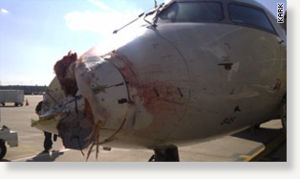 A commuter plane was left with significant damage to its nose after it struck a flock of birds, forcing it to make an emergency landing Friday at Little Rock National Airport in Arkansas.
The Delta Air Lines jet, with 49 passengers and crew on board, landed about 4:30pm local time, 4029tv.com reported.
Pictures of the plane show its nose cone smashed in and a hole in the fuselage.
The Federal Aviation Administration said no one was hurt in the incident.
The plane had been headed for the airport at the time the birds struck, leading to the pilot requesting an immediate landing.