All right all you crime fighters, puzzle masters and cryptanalysts (if you have to ask, you aren't), here's something to keep you busy.
Join the throngs who already are offering the FBI their best guesses as to the meaning of
two garbled notes
found in a dead man's pockets more than a decade ago.
The FBI's Cryptanalysis and Racketeering Records Unit (CRRU) is seeking the public's help with two pages of ciphers recovered in 1999 by St. Charles County, Mo., sheriffs investigating the suspected homicide of Ricky McCormick about 20 miles northwest of St. Louis.
The FBI said its folks had worked on cracking the code but admitted its "really good" staff was stumped.
In its press release on Tuesday, the agency provided a mailing address at Quantico - snail mail - for sending along great insights.
Good luck with that: The emails and telephone calls have been pouring in ever since, causing the FBI's chief codebreaker, Dan Olson said, to plead, "Please use the address we gave out and send in your thoughts in writing. We don't want to do anything to encourage people to flood field offices with calls or emails. We've got a plan on how to really look at people's ideas."
A lot of folks - Olson won't budge on saying how many so far - can't resist a good puzzle. Maybe the appeal is simply the allure of a message from beyond the grave. Or maybe it's the shot at bragging rights that would come with solving a puzzle that the FBI hasn't.
"I've gotten calls from my own family with their thoughts," said Olson, chief of the FBI Laboratory's CRRU at Quantico, "and I've had people at church tell me 'Hey, we're working on it.'"
"We are really good at what we do, but we could use some help with this one," Olson said.
Olson doesn't know what the notes may say but he is certain it is not gibberish. "Absolutely, this is not random. Clearly it's a writing system or some personal form of notekeeping."
Mccormick Notes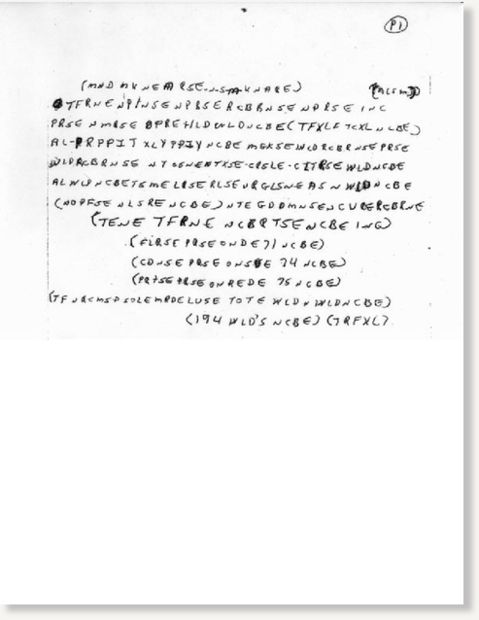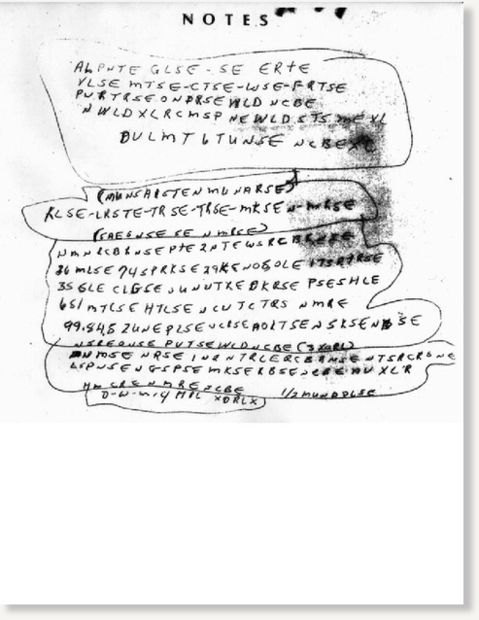 To Olson's trained eye, there are tip-offs amid the garbled English letters, numerals and occasional punctuation that the mashup is language.
Some patterns of letters repeat. There are a lot of Es, but few other vowels. The notes, written in pen, contain Xs, but are light on Q and Z.
McCormick was a high school dropout but could read and write and had used his own form of notes to lay out what he was doing during the day since he was a youngster, his family told local detectives, according to Lt. Craig McGuire, spokesman for the sheriff's office in St. Charles County. He spent time living with friends around St. Louis and had a minor criminal record but nothing significant enough to point to a reason for his suspected killing, McGuire said.
The official cause of death remains "undetermined,' McGuire said, due in large part to the condition of McCormick's remains that were found by two fishermen headed to a bait shop in late June 1999 during a hot and humid spell. McCormick had not been seen by family or friends for four or five days before the discovery of his body in a remote location along a cleared path that served as an access road for farming equipment.
The notes were kicked over to the FBI in 1999. Despite running a variety of analytical techniques on them, the 20-person cryptanalysis unit arrived only at "plausible theories," Olson said.
What those theories are, Olson would not say, "because we would rather the public have a chance to look at this and give us fresh eyes."
"Even if we found out that he was writing a grocery list or a love letter, we would still want to see how the code is solved," said Olson. "This is a cipher system we know nothing about."
McGuire, who has found himself handling a glut of calls in Missouri since the FBI put out its release, said, "it came out of the clear blue sky they were going to go all national on this and ask for help. But that is fine with us. We want to solve this case." The county has one or two homicides a year and McCormick's is one of the older cold cases, McGuire said.
The McCormick notes are among those on the cryptanalysis unit's Top 10 unsolved board - along with the
taunting messages
mailed to newspapers in California's Bay Area by the self-proclaimed and never-found Zodiac Killer in 1968 and 1969. The
Zodiac Killer
was the prime focus in five homicides but claimed in letters to have killed 37.
If you have thoughts about the McCormick notes, you can share them in the comments section below.
And if you have a theory or decoding you want to mail to the FBI, here is the address:
FBI Laboratory

Cryptanalysis and Racketeering Records Unit

2501 Investigation Parkway

Quantico, Va. 22135

Attn: Ricky McCormick Case