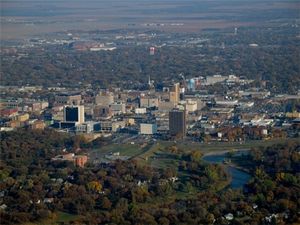 North Dakota, the state with the nation's lowest unemployment rate, capped a decade of economic prosperity with dramatic population growth in its biggest cities.
Fargo added nearly 15,000 residents to hit a record population of 105,549, the Census Bureau reported Wednesday. Its fast-growing neighbor of West Fargo added an additional 11,000 residents to reach a population of 25,830.
Fargo has seen steady growth over the decade - the housing boom missed it - to reach a size that surprised city officials.
"Above 100,000? Wow. That puts us into a different category of city. That's great," says Fargo Mayor Dennis Walaker. The city is now home to about one of every six North Dakota residents.
Fargo's growth is especially striking considering North Dakota's population is only 672,591, the nation's third smallest. The state's total population grew 4.7% from 2000 to 2010, below the national average of 9.7%, but robust for a region that has suffered for decades from a depopulation of the Great Plains.
North Dakota residents continued the long-standing trend of leaving rural counties for the bigger towns of Fargo, Grand Forks, Bismarck and Minot. Also, the state's population continues to get older. The number of children declined for the second straight decade, says Brookings Institution demographer William Frey.
North Dakota is one of the nation's least diverse states. Hispanic, black and Asian residents each make up 2% or less of its population. American Indians are the largest minority group, equal to 5.4% of the population.
The superstar of North Dakota is its economy. The state's unemployment rate hasn't touched 5% since 1987. The state's per capita income rose over the decade from 38th in the nation to 17th, the biggest advance of any state.
"We've had an absolutely stellar few years," says University of North Dakota economist David Flynn. "In all honesty, when you look ahead, we should continue to do well for quite a while."
North Dakota is enjoying an oil boom in the western part of the state, drawing workers from across the country. Williston, in oil country, grew 17.6% to 14,716. The oil windfall has created a $1 billion state budget surplus.
Agriculture - 90% of the state's area is used for farms and ranches - is productive and profitable, making the state a top exporter of wheat and other crops. Federal agriculture subsidies add nearly $1 billion a year.
North Dakota is one of the few states to add manufacturing jobs over the decade. Bobcat, maker of farm and construction equipment, is headquartered in the state.
"We don't have big factories like Gary, Ind., or steel mills that are hard to retool," Flynn says. "We have smaller plants that are some of the most efficient in the world." When factories closed elsewhere, production was often moved to North Dakota.
The state's weather makes it hard to lure new residents. The average January low temperature is four degrees below zero. North Dakota holds job fairs in other states to match workers to available jobs.
"We feel extremely fortunate for the position we're in," says North Dakota Commerce Commissioner Paul Govig.