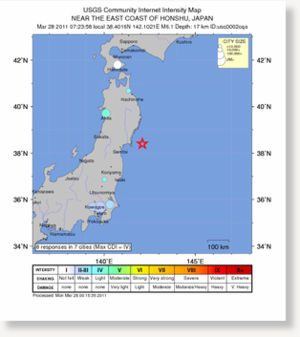 A 6.5 magnitude earthquake struck Japan on Monday morning, prompting a tsunami warning, according to reports from the region. The quake hit near Miyagi prefecture, which suffered extensive damage in the catastrophic March 11 temblor, at 7:24 a.m. (6:24 p.m. U.S. Eastern time), according to Kyodo News.
Dow Jones Newswires said the quake was centered off the coast.
No injuries or damage were immediately reported.
A tsunami warning was issued shortly after the quake, however the resulting wave was expected to be relatively small in size, according to CNBC.
USGS data
:
Date-Time:
Sunday, March 27, 2011 at 22:23:58 UTC
Monday, March 28, 2011 at 07:23:58 AM at epicenter
Time of Earthquake in other Time Zones
Location:
38.402°N, 142.102°E
Depth:
17.1 km (10.6 miles)
Region:
NEAR THE EAST COAST OF HONSHU, JAPAN
Distances:
109 km (67 miles) E of Sendai, Honshu, Japan
156 km (96 miles) E of Yamagata, Honshu, Japan
161 km (100 miles) ENE of Fukushima, Honshu, Japan
368 km (228 miles) NE of TOKYO, Japan
Location Uncertainty:
horizontal +/- 12.4 km (7.7 miles); depth +/- 4.4 km (2.7 miles)
Parameters:
NST=577, Nph=592, Dmin=401.9 km, Rmss=0.81 sec, Gp= 22°, M-type=teleseismic moment magnitude (Mw), Version=A
Source:
USGS NEIC (WDCS-D)
Event ID:
usc0002cqa