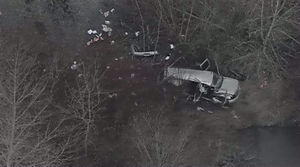 Longview, Wash. -- A Burlington Northern Santa Fe railroad freight train struck a shuttle van carrying BNSF crew members, killing three people and seriously injuring a fourth inside the van.
Spokesman Gus Melonas said the collision happened late Wednesday afternoon at a private rail crossing in the Longview, Wash., area, as the Seattle-based van was leaving a BNSF railyard to take the crew members to Vancouver.
Authorities say two railroad employees and the contract shuttle van driver were killed immediately. A third railroad employee was airlifted to Oregon Health and Science University. At last check, the lone survivor was listed in critical condition.
The loaded grain train was bound from Crookston, Minn., to Seattle. It did not derail.
Railway officials and local authorities are investigating.
"We've talked to witnesses, we're going to compile all the data and we'll have information on cause at another time," said Captain Darr Kirk, Kelso Police.
Identification on the victims have not been released.
The train crossing was not open to the public, but it was only protected by a stop sign instead of gates.