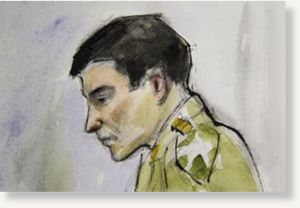 US Army Spc. Jeremy Morlock pleaded guilty to killing three Afghan civilians as part of a renegade 'kill team' made up of soldiers from the 5th Stryker Brigade.
US Army Spc. Jeremy Morlock, one of 12 soldiers serving in Afghanistan who are under investigation for forming a "kill team" that secretly murdered Afghans, has been sentenced to 24 years in prison.
The 22-year-old Army specialist pleaded guilty to murdering three unarmed Afghan civilians in what US military prosecutors called "acts of unspeakable cruelty." The verdict comes just days after photos of Morlock posing with the corpse of an Afghan boy emerged, and has placed added pressure on the US military's relationship with Afghan civilians.
Appearing before an extraordinary court-martial hearing at the Joint Base Lewis-McChord in Washington,
Morlock admitted to plotting the kidnapping and murders of Afghan civilians. He described how the group of accused soldiers planted weapons at crime scenes to make the victims appear to be terrorists.
When Judge Lt. Col. Kwasi Hawks asked Specialist Morlock whether the soldiers were trying to kill people or merely scare them, his answer was unequivocal.
"The plan was to kill people," Morlock said
,
according to the BBC
.
When the judge pressed further, asking, whether the soldiers knew that they were killing people that were completely innocent, Morlock replied,
"Generally, yes, sir, everyone knew."
The killings took place between January and March 2010. In one incident that came to light in the hearing, Morlock
described
randomly killing a civilian, reports Al Jazeera.
Morlock said the unit was in a village so that army leaders could meet with elders.
He and Private Holmes [another alleged member of the "kill team"] were on patrol when a man walked toward the two soldiers, who positioned themselves behind a waist-high wall.

Morlock tossed a grenade over the wall near himself and Holmes to make it appear as if the Afghan man had thrown it, and Holmes fired at the man with his machine gun.
In a plea bargain, Morlock pleaded guilty to three counts of murder and one count each of conspiracy, illegal drug use, and obstructing justice. Colonel Hawks said that he intended to sentence Morlock to life in prison, but since Morlock agreed to testify against his fellow soldiers, the sentence was reduced to 24 years in prison.
The global press is already speculating on how the sentencing of Morlock will affect the United States' already damaged image in Afghanistan. The UK's Guardian, which headlined its analysis of the trial "US soldier
admits
killing unarmed Afghans for sport," called the case "a PR disaster for America's military."
The case has caused outraged headlines around the world. In a series of videotaped confessions to investigators, some of which have been broadcast on American television,
Morlock detailed how he and other members of his Stryker brigade set up and faked combat situations so that they could kill civilians who posed no threat to them.
Four other soldiers are still to come to trial over the incidents.
The case is a PR disaster for America's military and has been compared to the notorious incidents of torture that emerged from the Abu Ghraib prison in Iraq. This week the German magazine
Der Spiegel
published three pictures that showed American soldiers, including Morlock, posing with the corpse of a young Afghan boy as if it were a hunting trophy.
The military appears aware of the problem posed by the murders of Afghan civilians at the hands of US troops and is working to distance itself from the renegade soldiers.
"We don't do this. This is not how we're trained. This is not the Army," military prosecutor Capt. Andre Leblanc
said in Morlock's hearing
, according to the
Los Angeles Times
. "Instead of providing these people with the security they needed, instead of building relationships of trust, instead of doing the job we expect of our professional soldiers, the accused and co-accused decided to engage in acts of unspeakable cruelty."
In an
interview
with
The Seattle Times
, Morlock's mother said that much of the fault lies with the military leadership for not properly monitoring her son's platoon leader, allegedly the ringleader of the group. She also said that the war changed her son, and when he came home on leave, he was "jumpy, constantly looking over his shoulder, and terrified of returning to his platoon fighting in the southern province of Kandahar," she said - and he was convinced he was going to be killed.
The stress of fighting began taking its toll on Morlock early on in his tour.
"I have been here barely for two months, and I don't think that I will ever be able to talk about some of the things that have happened," Morlock wrote to his mother. "I don't mean to worry you. ... I will be OK. I am too smart for anything to happen to me."