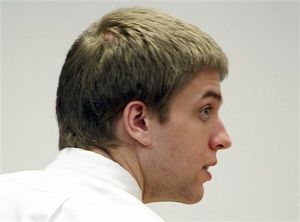 Nashua - A man who admits killing a mother and maiming her daughter in a machete and knife attack said in a taped interview with police that was played Wednesday that he thought the slashing was "cool" and would have killed the girl if he had realized she was still alive.
In a recorded 7-hour statement to police played for jurors Tuesday and Wednesday, Christopher Gribble said he hacked to death Kimberly Cates and thought he had killed her 11-year-old daughter, Jaimie.
Gribble can be heard saying he was certain Jaimie was dead because she wasn't moving and her head was drenched with blood.
"I'm kind of surprised she's alive," Gribble told police the day after the Oct. 4, 2009, home invasion in Mont Vernon. "I kind of wish she'd died for her sake, just because she's going to have to live with all that now."
"If I'd realized she was still alive, I would have ended it for her," Gribble said.
Jaimie suffered 18 wounds and lost a portion of a foot in the attack.
Prosecutors are expected to wrap up the state's case Thursday. Superior Court Judge Gillian Abramson told jurors they can expect to hear closing arguments and her instructions on the law Thursday afternoon.
The 21-year-old Gribble denied any involvement in the home invasion during the first three hours of the police interview. But state troopers kept confronting him with additional information they had learned from others involved in the attack who were also being interrogated.
When Gribble finally began detailing the crimes, his words tumbled out in rapid succession, but his voice remained calm and matter-of-fact.
"I thought I would feel bad," Gribble said. "I'm almost sorry to say I don't. I thought I would at least puke afterward or something."
"I just felt nothing," he said. "It was kind of cool because it was different."
David Cates, seated in the front row of the courtroom, slowly shook his head as Gribble described how "cool" the attacks were. At other points, when Gribble described how one machete blow exposed bone from Kimberly Cates' arm, David Cates seemed to glare at Gribble.
Gribble sat at the defense table reading and occasionally marking transcripts of the recordings.
In the recording, Gribble described for investigators how he stabbed both victims with a knife and plunged the knife into Kimberly Cates' throat.
"She was still breathing," Gribble said. "So I went over and stabbed the side of the neck and made sure her artery bled out. Not a lot came out, so I figured she was probably gone."
One juror dabbed her eyes with a tissue as Gribble described the attacks and what the victims looked like afterward.
The last interview was recorded as Gribble led investigators to a spot in the woods where he and Spader buried the machete and knife used in the attacks. State Police Sgt. John Encarnacao said Gribble was cooperative and chatty as they traipsed into the woods and back out with the evidence. "To put it honestly and bluntly, he wouldn't shut up," Encarnacao said.
During the trip Gribble marvelled that Jaimie had a black belt in karate. He said he liked the hinges on his handcuffs. He volunteered that he was "so broke" before the home invasion that he had to use gas from cans in his garage to be able to make it to Mont Vernon and back.
He also expressed concern that he wouldn't survive whatever prison sentence he gets.
Gribble bears the burden of convincing the jury he was insane at the time of the crimes. A psychiatrist who testified for the defense at the outset of the case treated Gribble in the summer of 2007 treated him for what she described as low-grade depression and anti-social personality disorders. But she also said she did not consider him legally insane.
A forensic psychiatrist for the prosecution who examined Gribble in February said he is a liar and a manipulator who is not insane.
Co-conspirator Steven Spader was convicted in November of murder and other felonies. He is serving two life sentences without possibility of parole. Spader used a machete during the attacks.
In his interview with investigators, Gribble described how Spader held the machete in both hands and repeatedly rained blows on Kimberly Cates.
"I think Steve enjoys just the butchery part of it, just the power," Gribble said. "I'm more of a precision sort of guy... That's why I aim for specific places."
If jurors reject Gribble's insanity defense, he will automatically be sentenced to life in prison without parole.
It has been more than half a century since a New Hampshire jury returned a verdict of not guilty by reason of insanity.