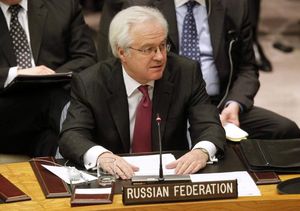 Russia has warned that foreign military intervention in Libya could trigger an all-out war with the West.
"Any bombing of Libyan territory could provoke a large-scale conflict between the so-called West and the so-called Arab world," a Russian Parliament leader said commenting on French and British plans to carry out aerial attacks in Libya.
Russia will not take part in a military operation in Libya, a top Russian defence official said on Friday.
"No, this is ruled out," Chief of the Russian General Staff Nikolai Makarov told the Interfax news agency.
Russia was one of five Security Council members to abstain during the vote on a no-fly zone in Libya on Thursday.
"Any foreign military intervention will give Libya legal grounds to defend itself. We should do our best to avoid this highly dangerous scenario," said Konstantin Kosachyov, head of the Foreign Affairs Committee of the State Duma, the lower house of the Russian Parliament.
Ahead of the Security Council vote on the no-fly zone resolution Russian President Dmitry Medvedev warned that ground operations by foreign countries in Libya would likely embroil them in a war.
"You and I understand what ground operations mean: they probably mean the beginning of war, and not civil war but war involving international forces," Mr. Medvedev said after a draft resolution to impose a no-fly zone was circulated in the Security Council.
Russia's U.N. Ambassador Vitaly Churkin said the resolution failed to clear Russian concerns as to "how the no-fly zone would be enforced, what the rules of engagement would be and limits to the use of force would be."