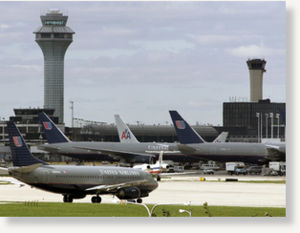 Passengers arriving this week on a flight from earthquake-and tsunami-ravaged Tokyo set off radiation detectors at O'Hare Airport, city officials acknowledged Thursday.
"We are aware that occurred [Wednesday]. We are working with Customs and Border Protection on this issue," Aviation Commissioner Rosemarie Andolino said, referring all questions to the U.S. Department of Homeland Security.
Andolino refused to say how the incident was handled or what happened to the Tokyo passengers in question.
"The protection of the person coming off the plane is very important in regards to any radiation - especially within their families and anything else," Mayor Daley said.
The mayor was asked to explain the city's general policy when it comes to contaminated passengers arriving at O'Hare.
"That will be up to the federal government. Every city can't have a policy. One says yes. One says no. You can't do that. You have to have a federal policy dealing with anyone entering the country in regards to situations like that," he said.
"They handled it very professionally. And it will be up to Homeland Security. We've been working with them. They have the primary responsibility. I can't change policies. I can't say, 'Yes' or say 'No,' pick one or the other. That will be up to the health and safety of everyone on the plane and those who have been detected."
Daley said Homeland Security would "have a press conference very shortly - not only here in Chicago, but throughout various international airports: L.A., San Francisco, Seattle, New York."
O'Hare was apparently not the only city where arriving Tokyo passengers set off radiation detectors because of an impending nuclear disaster in Japan.

The New York Post has reported that the same thing happened in Dallas.