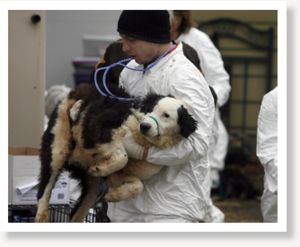 Schneider, Indiana - After wading through a foot and a half of animal feces, Detective Michelle Weaver stared in disbelief at a freezer full of individually plastic-wrapped canine carcasses. She said this was worse than she could have imagined.
Lake County Sheriff's Department investigators executed a search warrant on allegations of animal abuse and neglect on Friday at a residence on the 7800 block of 245th Street.
It was impossible for police to operate in the home without protective suits and face masks. The stench wafted uphill in the wind as they opened the front door. Sheriff's deputies said they could smell the odor more than 500 feet from the home.
It took officials more than two hours to wade through the muck in the living room and upstairs before they could say they'd found all the living animals --- more than 18 mixed-breed dogs.
They began caring for the animals at the scene.
But as officials took a last walk through of the home, one investigator made a gut-wrenching discovery -- a freezer full of about 15 carcasses carefully wrapped in plastic. Blood stained the bottom of the freezer causing a larger concern for the case, Weaver said.
"There's blood, and we don't know why," she said. "If the animals had died of natural causes, why would there be blood there?"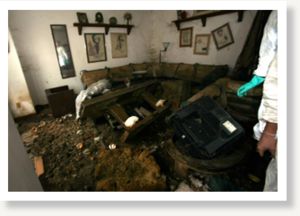 The owner of the home was not there. Investigators are withholding the release of her name since she has not been formally charged. However, the charges mounted with each newly discovered animal, police said.
The woman is scheduled to be charged with one count of animal cruelty neglect for each dog, Weaver said. She also could face up to one charge of harboring a nonimmunized dog for each animal that has not received routine shots and vaccinations.
More charges could be pending as well as the investigation continues.
Neighbors have watched for years as the homeowner lived out of her car instead of her home.
Dawn Martin, who lives next door, she said it pained her to watch her neighbor struggle through the winter by leaving the car running for heat on cold nights.
"I am glad they are out here doing something about this," she said. "But I feel bad for (the woman)."
Martin said the smell is unbearable in the summer. She hasn't been able to have barbecues because the stench is so bad when it's hot outside. She said the dogs' barking often keeps her and her family awake at night.
The woman was selling the dogs and fed them all the time, Martin said.
"We've seen as many as 30 dogs (out in the yard) at one time," she said.
The dogs are being cared for at the Lake County Animal Adoption and Control Center. They will be up for adoption as soon as investigators are allowed to release them, Weaver said.
The investigation was part of a new initiative through the department. A new animal cruelty task force is being developed, and Weaver has been chosen as the detective to run it, Sheriff John Buncich said.
The new force will focus on animal-related investigations that include cases of animal fighting, neglect, cruelty, milling and hoarding.
"Nobody should have to live in these types of conditions," Buncich said. "Nobody should have to put up with neighbors like this."
Buncich urges the public to call (219) 755-3400 or (800) 750-2746 to report animal crimes in Lake County.
The status of the dogs is available at the Lake County Sheriff's Animal Shelter. It can be reached at (219) 769-7016.