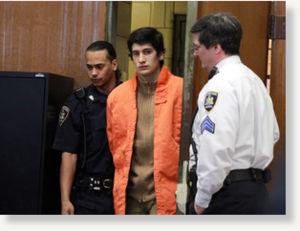 Accused castration killer Renato Seabra may claim he is too crazy to be tried for the torture death of his Portuguese lover in a midtown hotel, his defense lawyer said Friday.
Lawyer David Touger asked a Manhattan judge to give him more time to review St. Luke's hospital records - where Seabra, 21, headed before his arrest but after the ultra-violent, hourlong slaying of acclaimed fashion journalist and gay activist Carlos Castro, 65.
"Until we get those records, we are not making any decisions," the defense lawyer said. "They were the first people who saw Renato - they're the most important."
Wearing a neon orange prison jacket and jet black hair, Seabra stared straight ahead during the hearing. The male model's mother sat in the audience behind him.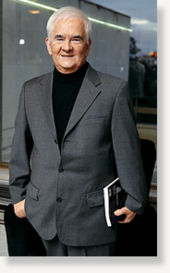 While prosecutors gave Touger 122 pages of crime-scene evidence, the defense lawyer filed legal motions to toss out statements Seabra made to cops. He claims police had no probable cause to arrest Seabra.
"There were no eye-witnesses to the crime, nor any statements or witnesses accusing the defendant of the crime at the time he was taken into custody and questioned," Touger wrote.
Seabra and Castro had flown to New York from Portugal together to spend New Year's in the city.
Cops have said Seabra confessed to killing Castro Jan. 7 by stabbing him, cutting off his testicles with a corkscrew, smashing him over the head with a computer monitor and stomping on his face.
The two men were romantically involved, but Seabra has insisted that he is not gay and told cops that he killed the older man to rid the him of his "homosexual demons," according to police sources..
After the slaying, Seabra took a shower and left the hotel where they were staying - running into a friend of Castro who demanded to know why her pal was unreachable.