At least 15 demonstrators were reported killed today in a fierce struggle for control of the Libyan city of Zawiya, and 30 miles away in Tripoli, protesters rallied in the capital's streets as security forces loyal to Moammar Gadhafi fought back with firearms and tear gas.
There were conflicting reports of casualties as violence worsened across the North African nation. Sky News reported 30 people dead and up to 50 injured after Gadhafi forces fired on demonstrators in Zawiya. The Associated Press, quoting a witness who was at the city's hospital, reported at least 18 people were killed and 120 wounded, and CNN reported that at least 15 were killed there.
Mercenaries brought in by Gadhafi "have been opening fire on people here," a man identified as Ibrahim told Reuters. "Hundreds of victims are now in the town hospital."
Libyan state TV claimed Zawiya was back in the hands of Gadhafi's forces. "It is liberated this afternoon, and we are going to take you there tomorrow to see for yourself," a government spokesman was quoted by
The New York Times
.
But others disputed that. "That is [a] lie," Mohamed Magid, an opposition spokesman, told
The Washington Post
. "We are still in the square. Zawiya has not fallen."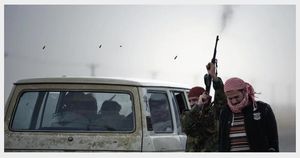 In Tripoli, witnesses told the Times that militia loyal to Gadhafi opened fired to disperse protesters. "Everyone was supposed to retreat to the mosque, but they are scared of the killing because they are using bullets," a doctor told the newspaper, adding that two people were injured.
Tear gas was used to disperse hundreds of demonstrators in Tripoli who answered a call to protest after traditional Friday prayers, the BBC reported. The Associated Press said that more than 1,500 protesters chanting "the people want to bring the regime down" marched in the capital after prayers let out.
Gadhafi has shut down the Internet and set up checkpoints around Tripoli to try to keep journalists from the scene. Tripoli residents told the Times they're under constant surveillance, with cars and even cell phones being searched by pro-Gadhafi fighters with Kalashnikovs slung over their shoulders.
Government agents showed up early this morning at a Tripoli hotel where many foreign journalists are staying and barred them from leaving the premises, saying they had information that "al-Qaida elements" are planning attacks, the AP reported. It's unclear what they sought to prevent the media from seeing.
The BBC cited unconfirmed reports of mosques being shut and mysterious arrests in the night. Gadhafi's security forces are believed to be responsible for a wave of detentions, killings and disappearances in recent days.
Although demonstrations have been largely unimpeded in Libya's east, where opposition fighters say they are completely free of Gadhafi's regime, Tripoli has remained under the dictator's tight control. Today's demonstrations in the capital could be a test of how strong that grip really is. Some residents said they no longer believe peaceful protests can oust Gadhafi after his 41 years in power.
"I think the people know that if they make any protest now they will be killed, so all the people in Tripoli are waiting for someone to help them," an unidentified resident of the capital told the Times. "It is easy to kill anybody here. I have seen it with my own eyes."
Meanwhile, fresh airstrikes have been reported today in the eastern cities of Ajdabiya and Brega, an oil port where a mix of rebel groups and Libyan soldiers who have switched sides have managed to hold their ground against counteroffensives by pro-Gadhafi forces all week. While the opposition now rules most of eastern Libya, it also controls a handful of cities farther west, like Zawiya and Misrata, where locals have also repelled attacks by Gadhafi loyalists.
Leaders there have so far refused to negotiate with Gadhafi's regime. "If there is any negotiation it will be on one single thing: how Gadhafi is going to leave the country or step down so we can save lives," Ahmed Jabreel, a spokesman for the National Libyan Council, a rebel group in eastern Libya, told Reuters. "There is nothing else to negotiate."
Some opposition figures are also calling for international help, including a no-fly zone and airstrikes against Gadhafi's positions. U.S. warships and aircraft have been repositioned closer to Libya, but so far Western powers have been hesitant to intervene.
President Barack Obama said Thursday that Gadhafi "needs to step down from power and leave" and that U.S. military aircraft would play a humanitarian role in evacuating people fleeing Libya's violence and streaming into neighboring Egypt and Tunisia.
The chief prosecutor at the International Criminal Court, Luis Moreno-Ocampo, said Thursday that Gadhafi and his sons are suspected of crimes against humanity and that an arrest warrant for the Libyan leader could be issued within months.