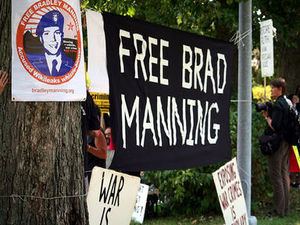 As Julian Assange fights an extradition order in London, Bradley Manning, the US soldier accused of handing over government files to WikiLeaks, has been slapped with 22 new charges.
The US Army announced the new charges today against Pfc Manning, which could see him go to prison for life.
"Aiding the enemy" is the most serious and significant of the additional charges, said Private Manning's lawyer, David Coombs.
He also said that the soldier's defence had been preparing for the possibility of extra charges for the past number of weeks.
According to the charge sheet, the 23-year-old is also accused of wrongfully causing intelligence to be published on the Internet, knowing that it was accessible to the enemy and multiple counts of theft of public records, transmitting defense information and computer fraud.
The New York Times
has a copy of the
charge sheet here
.
"The new charges more accurately reflect the broad scope of the crimes that Private First Class Manning is accused of committing," said Capt. John Haberland, an Army spokesman.
The enemy discussed on the charge sheet is not identified but on its Twitter feed today, WikiLeaks seems to believe it is the enemy.
"Based on statements, WikiLeaks, a publisher, is 'the enemy'. Sets a very dangerous precedent for all media," the whistle-blowing website said.
It also added, "To be convicted of 'aiding an enemy' US must prove alleged recipient WikiLeaks, was 'hostile body'."
Manning is currently being held under highly restrictive conditions at the Marine Corps brig in Quantico.
Meanwhile, WikiLeaks founder Julian Assange has launched an appeal against a British ruling that he must return to Sweden to face allegations of sex crimes.
His lawyers lodged the appeal papers this morning in London. He remains under strict bail conditions in England.
The appeal is likely to be heard in the next three months.