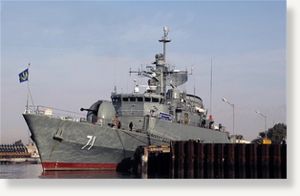 Benjamin Netanyahu, the Israeli prime minister, accused Iran of trying to exploit the Middle East unrest to increase its influence in the region as two Iranian warships prepared to cross the Suez Canal.
The two Iranian ships, which are a frigate and a supply ship, are to deliver supplies to a port in Syria. They mark the first Iranian navy vessels to
pass through the Suez Canal
since the Iranian Revolution in 1979.
Egyptian officials at the canal denied reports by Iranian state television that the pair of ships had already passed through the strategic waterway connecting the Red Sea with the Mediterranean. But instead said the ships were expected to pass through around dawn today.
Egypt and Israel have maintained a cold but stable peace for the past 33 years. This month's popular revolution in Egypt has led to fears in Jerusalem that, despite assurances from the new interim military government that it would honour the treaty, instability could be afoot.
Mr Netanyahu told his Cabinet yesterday: "We can see what an unstable region we live in, an area in which Iran is trying to take advantage of the situation that has arisen and broaden its influence by transferring two warships via the Suez Canal."
"Israel takes a grave view of this Iranian step," he said.
He added that Israel would have to boost its already considerable defence budget due to the recent upheaval in the region and increased danger it might pose for Israel, particularly if Iran emerges strengthened by events.
Aluf Benn, a senior commentator for Israel's daily
Haaretz
newspaper, said: "Egypt is signalling that it is no longer committed to its strategic alliance with Israel against Iran, and that Cairo is now willing to do business with Tehran."
He described the Egyptian decision to allow the Iranian navy passage as a "change to the regional balance of power"
.
Until the overthrow of former Egyptian President Hosni Mubarak, Egypt had been Israel's most powerful ally in a region where it has few friends.
Escalating concern among Israeli officials that Egypt could turn hostile comes as Israel is increasingly isolated internationally.
On Friday the United States used its veto power to halt a United Nations resolution condemning Israeli settlement construction in the West Bank while the fourteen other members of the Security Council voted in its favour.