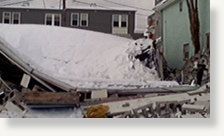 Auburn, Massachusetts - State officials renewed their warnings yesterday about the danger of roof collapses, as weather forecasters said a storm today could drop up to 6 new inches of snow on some parts of the region.
"This is not a reason for panic, it's a reason for care and diligence,'' Governor Deval Patrick said at a midday news conference in Auburn. "This is a very tough time, a very tough set of circumstances. But people can do things to keep themselves, their families, and their co-workers safe.''
He said the warning signs of collapse from heavy snow and ice included doors sticking or opening on their own because the jambs have become out of line. Leaks, windows jamming, and cracking sounds are other signs, the governor said during a visit to Interstate Battery Center in Auburn, whose circular roof collapsed Thursday. No one was injured.
Since last week, about 92 buildings across the state have had their roofs, which almost all are flat collapse, partially collapse, or suffer enough damage to prompt an evacuation, according to Peter Judge, a spokesman for the Massachusetts Emergency Management Agency. He said the rain that is expected to accompany the snow today and tonight could place an added strain on roofs.
"In this regard, I think snow might be a little bit better'' than rain, he said.
A mix of rain and light snow is forecast for the Boston area today, according to Neal Strauss, a meteorologist at the National Weather Service in Taunton. He said the area could see up to 1 inch of snow overnight; up to 6 inches could hit parts of Worcester and Franklin counties. Sleet and freezing rain could make for "some treacherous travel conditions'' in those areas, Strauss said.
Patrick said the state has been looking at the rules for a US Small Business Administration program that could offer financial assistance to those making repairs to damage caused by the recent series of punishing storms. Kurt Schwartz, acting director of the Massachusetts Emergency Management Agency, said the state was also looking into a Federal Emergency Management Agency program that would provide help for communities that have exhausted their snow and ice removal budgets.
Meanwhile, the roof collapses continued yesterday. In Hopkinton, two horses escaped injury when the pitched roof of a barn collapsed on Fruit Street shortly before 7 a.m., fire officials said.
"The roof was completely down to the first floor and there was some structural instability,'' Fire Chief Ken Clark said.
He said the horses were still on the first floor of the two-story barn when firefighters arrived. They borrowed the homeowner's snowblower to cut through the deep snow to the lower floor and free the animals.
"Luckily, one of the rescue guys has horses, so he was in his element,'' Clark said.
In Mansfield, students at Robinson Elementary School were evacuated about 8:30 a.m. because of a roof leak, according to a fire dispatcher. Superintendent Brenda J. Hodges said on the school district's website that classes would resume Monday as scheduled, and that inspectors found no structural dangers in the building.
Students and teachers in Georgetown have not been so lucky. The town's public schools were closed yesterday while workers removed snow from the roofs after a partial collapse at the Perley Elementary School on Thursday, officials said. Officials plan to resume classes Monday, but the damage at Perley has to be assessed before reopening, Fire Chief Albert Beardsley said.
In Methuen, schools will be closed Monday and Tuesday while workers clear snow off the roofs. According to a message posted on the school district website, all buildings are structurally safe and the decision was made to cancel to allow workers to clear the snow as quickly as possible.
Roof collapses and evacuations due to safety concerns were reported yesterday in several communities, including Beverly, Ashland, and Stoneham.
Also, Wal-Mart stores that closed Wednesday because of heavy snow loads on the roofs remained shuttered yesterday in Chelmsford, Worcester, North Attleborough, and Northampton, according to company spokeswoman Ashley Hardie. She said the stores in North Attleborough and Worcester were scheduled to reopen last night.
Travel challenges also continued yesterday. The MBTA faced delays on the commuter rail in the morning, problems on a variety of subway lines, and buses making their way through icy, snow-choked streets.
Logan International Airport was operating with only a handful of cancellations, said airport spokesman Phil Orlandella.
"I don't know what normal is,'' he said. "But I guess we are as close to normal as possible.''
Boston officials said yesterday that they were continuing to remove snow from city streets and planned to work through the weekend.
The city has removed more than 62,000 tons of snow from the streets since last week
, the mayor's office said in a statement. "The Public Works crews have been working around the clock and doing a great job of keeping our city open for business,'' Mayor Thomas M. Menino said. "We understand their operations can cause inconvenience to some residents but again ask for patience while our crews continue their work.''