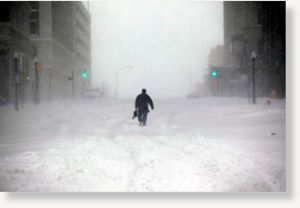 Marnie Fernandez had four children and a sick husband at home Friday but almost no milk or toilet paper. The blizzard that dumped 20 inches of snow, sleet and ice on Tulsa on Tuesday still had the area paralyzed, and while Fernandez had her driveway shoveled, several inches of snow and higher drifts blocked the streets of her neighborhood.
She had only a few granola bars and fruit snacks for the kids and worried that a new storm would collapse her roof. Looking outside, she watched water leak through the lights on the roof's overhang as it started to snow again.
"
I've never seen anything like this where people literally can't get out of their houses
," said Fernandez, 39, who's lived in Oklahoma most of her life. "
You just realize you're not in control and you're at the mercy of Mother Nature
."
Other Tulsa residents also were running low on food and basics four days after the largest snowfall in the city's history. Thousands were trapped in snowpacked neighborhoods, unable to make it to main streets. Those who could walk to stores emptied the shelves of milk, bread and juice, and managers said no supplies were expected until the roads cleared and trucks could get in. With snowplows making slow progress, Mayor Dewey Bartlett ordered the fire department to drive its engines down some neighborhood streets to pack down the snow so cars could get through.
Bartlett downplayed suggestions the city could have done more to prepare for the storm.
"Our street system is several thousand miles long, longer than from New York City to Los Angeles," he said. "I think that we have responded remarkably well to the situation that has developed; the storm was a blizzard."
The National Weather Service warned that up to 6 more inches of snow could fall by Friday evening. Bartlett said residents who thought they might venture out also needed to remember that under the snow covering roads was a layer of ice. He had ordered snowplows into residential neighborhoods for the first time in the city's history to clear the snow out. Usually, they stick to main streets.
Even with the extra effort, abandoned cars and trucks littered the roads. Mail and trash pickup service were sporadic in areas where they existed at all. A message left on the Tulsa-area Meals on Wheels office said the agency was unable to deliver food because of the weather.
The day after the storm, Robert Walters braved the frigid temperatures that followed and walked to a convenience store near his suburban home in Sapulpa. He trudged through slippery streets, diving into snowdrifts whenever cars approached, but when he reached the store, entire aisles were empty. There was no meat, and frozen foods were sold out.
Still needing a few supplies Friday, the 33-year-old middle school teacher drove to Wal-Mart, arriving just as more snow began to fall. He loaded up his cart with frozen pizzas, macaroni, turkey sausage, apples and soda.
"When I got here, I started going crazy," Walters said. "I know it's supposed to get above freezing this weekend and melt the snow, but I just don't see that happening."
Walters lamented that even with his second trip outside, he hadn't been able to find milk, flour or biscuits.
Either people do a lot of baking when they're snowed in, or everyone's having biscuits and gravy," he said.
Hundreds of the city's homeless and a few stranded office workers filled shelters downtown, sleeping wherever they could. The John 3:16 Mission in downtown Tulsa has beds for 110 people, but 135 stayed there Thursday night, the Rev. Steve Whitaker said. Some people slept on 6-inch foam pads on the floor. Others found a spot wherever they could.
'"We took up the chairs out of our chapel and put them down in there," Whitaker said. "It's been bad enough in the past few days that some people have been sleeping on benches in the lobby."
Police officers picked up others who couldn't get out of their driveways or neighborhoods and brought them to work, said Officer Leland Ashley, spokesman for the Tulsa Police Department. But they were less busy because violent crime, such as robbery and assault, diminished after the storm.
"The weather has slowed the bad guys," Ashley said.
Schools have been closed since Tuesday, and Fernandez said her family might have to cancel a trip to California in May because her children might be making up the snow days. While the winter break was fun at first, Fernandez said her 6-year-old went outside Friday and lasted only 10 minutes before he fell in a drift, got wet, came inside and told her he was "done with the snow."
Source: Associated Press