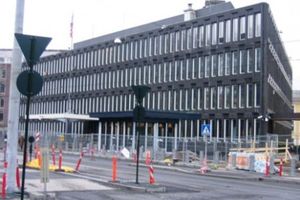 Various monitoring groups formed at the US embassies around the world could have been armed, American Foreign Service documents show.
The US Embassy in Oslo's Surveillance Detection Unit (SDU),
which was set up to spy on Norwegians
, could have been one of these armed embassies.
"It's had the opportunity. They could have been carrying concealed weapons in high threat level situations or exceptional circumstances, providing the embassy and the host nation granted them permission," Vegard Valter Hansen, senior adviser at the Norwegian Institute of International Affairs (NUPI), told Norwegian state TV NRK.
Spokesman for the American Embassy in Oslo, Timothy Moore, said he was unaware of whether the SDU staff were carrying weapons or not, according to
The Foreigner
.
"They only have to keep an eye on things and observe, so why should they be armed? SDU members are just regular US embassy employees [and] are paid the same way. Some of them work full-time, others part-time," he said.
Valter Hansen believes the situation may have arisen during "[US] President [Barack] Obama's Nobel Peace Prize visit in 2010."
Earlier this year, reports stated that
US diplomats in Iceland, Norway and Sweden were monitoring their citizens through allegedly taking pictures of street demonstrations and of people deemed to be security risks
, sparking a wave of anti-American sentiment.
In Oslo, SDU employees recorded and later distributed sensitive details on these individuals before registering them in the worldwide anti-terror SIMAS database.