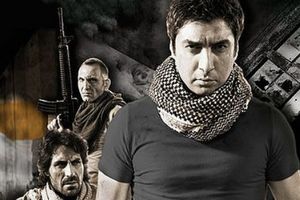 Germany has banned the public screening of a movie, which depicts that atrocities Israel has committed against activists aboard an Ankara-backed Gaza-bound aid convoy.
The German Movie Control Association took issue with the content of
The Valley of the Wolves - Palestine
, preventing its screening, which had been planned to open on Thursday, Israeli NGO Meir Amit Intelligence and Terrorism Information Center reported on Sunday.
Modeled after the TV series of the same name, the movie tells the story of how the protagonist captures the Israeli military commander, who had planned and ordered the May 31 attack on the Freedom Flotilla.
The assault on the relief mission, which had set off to take relief supplies to the Tel Aviv-blockaded Gaza Strip, killed nine Turkish activists and injured about 50 other people.
The production also caused political furor in Germany, English-language Turkish newspaper
Hurriyet Daily News
reported on Tuesday.
The movie stokes "anti-Israeli [feelings] and anti-Semitic sentiments," the paper quoted Kerstin Griese, a parliamentary deputy for the opposition Social Democratic Party as saying.
Turk producer, Pana Films denounced the ban as a "scandal," saying such prohibitions are not applied to German films, the Israeli NGO reported.
The decision, the company said, violated the rules of democracy and freedom of expression and "trampled on conscience."
Germany revised the decision following an appeal by the firm, limiting the movie to audiences of 18 years old and above.
The movie was "standing up for innocent people in their struggle against fascist Zionist policy," the producer noted.
The onslaught in international waters has done a record damage to Israel-Turkey ties, already at lows over Tel Aviv's attacks on Gaza at the turn of 2009. Israel's war killed more than 1,400 Palestinians, mostly civilians.