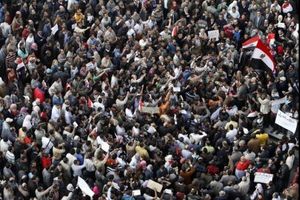 Reports say the army has been ordered to shoot when it sees fit. Military helicopters and jet fighters fly over major locations as the numbers of protesters multiply there.
Tens of thousands of people have practically taken over the Tahrir Square in the city center despite heavy military presence, a Press TV correspondent reported.
Clashes between demonstrators and police have left at least 150 people dead and thousands more wounded since anti-Mubarak rallies began in Cairo, Suez and Alexandria on Tuesday.
Protesters have one demand and that is the resignation of President Mubarak. They want a regime change and have dismissed Mubarak's appointment of a vice-president and prime minister.
The Egyptian president has visited an army military operations center on the sixth day of the protests against his regime.
Local media say Mubarak has met with top military commanders and troops at their headquarters.
Mubarak's newly appointed vice president, defense minister and chief of staff have also attended the meeting. No further details have been released.
On Friday, Mubarak ordered the army out to the streets in an effort to maintain control.
Thousands of people across the world have taken to the streets to express support for the anti-government demonstrations in Egypt.