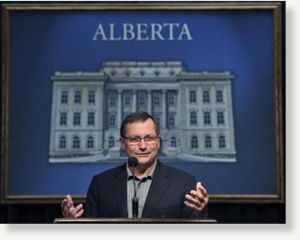 Alberta Premier Ed Stelmach surprised voters on Tuesday by saying he will resign, just three years after winning the largest parliamentary majority in the oil-rich province's history.
Stelmach, 59, a farmer by trade who has had a tumultuous relationship with Alberta's powerful energy industry, told reporters he plans to step down as head of the governing Progressive Conservative Party before the next election.
"There is no doubt that my decision today will come as a shock to many and a disappointment to my friends and Albertans," he said.
Alberta is one of the top suppliers of oil to the United States, thanks largely to its vast oil sands, the largest crude reserves outside the Middle East.
In his first election as leader, Stelmach's party won a landslide victory in the Western Canadian province of 3.3 million in 2008, despite discontent over his moves to boost royalties levied on the oil sector.
Since then, the premier has taken hits from disgruntled oil and gas producers, though royalty rates were rolled back during the recession, while facing accusations that his Conservatives have mismanaged the province's healthcare system.
Polls show Stelmach's government faces a challenge from the Wildrose Alliance, which has positioned itself to the right of the Conservatives, taking advantage of the premier's sinking popularity.
"There's a concern among many in the Conservative ranks that, in general, he would provide too much cannon fodder for the Wildrose Alliance ... in the next election," said David Stewart, a University of Calgary political scientist.
As well, there have been media reports of tension between the party's fiscal hawks and more moderate voices over how best to bring the province's budget back into surplus.
Stelmach said on Tuesday that the provincial budget will be balanced in the 2013-14 fiscal year, a year later than promised.
He added that the upcoming budget for 2011-12, expected to be announced within weeks, will not drastically cut spending.
"It will not be a budget that guts funding to municipalities, mothballs health projects under way or halts school and road construction at a time when people need work and the prices for construction are good," he said.
Two years ago, as the recession hit oil and gas prices, Stelmach announced a multibillion-dollar budget deficit -- the first in Alberta in 14 years -- but pledged to balance the books by 2012.
While revenue plunged and high royalty rates convinced some energy companies to invest elsewhere, Stelmach continued spending on infrastructure and other capital projects, using cash saved during the boom years of the last decade.
"What they are doing now is they are using their sustainability fund to help to balance their books to offset the operating account deficit, said Mary Webb, senior economist at Scotia Capital.
Stelmach said he has yet to file formal notice that he will resign. His successor has until March 2013 to call an election.
Stelmach is the third Canadian premier to step down within the past year, following the resignations of Danny Williams in Newfoundland and Labrador, and Gordon Campbell in British Columbia.