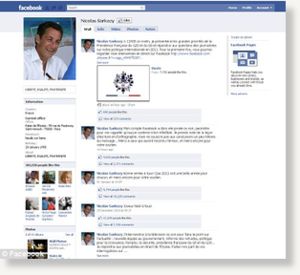 Hackers have managed to break into the Facebook page of French President Nicolas Sarkozy and post that he would be quitting next year.
The message meant that more than 350,000 'friends' of the head of state would have been sent messages informing them of his apparent resignation.
Many passed the message on to thousands of others, creating a storm of interest into whether the resignation was genuine.
In a misspelled post, Mr Sarkozy is meant to have written: 'Dear Compatriots, given the exceptional circumstances facing our country I have decided not to put myself up for re-election in 2012.'
The post also included a reference to another Facebook page, 'Farewell to Nicolas Sarkozy', which suggested people meet outside Le Fouquet's restaurant in Paris on May 6, 2012, to celebrate his resignation.
Le Fouquet's was the restaurant where, in 2007, the President celebrated his election with celebrity friends including French Elvis impersonator Johnny Hallyday.
Today Mr Sarkozy had replaced the fake message with a real one apologising for the security lapse and thanking friends and supporters for their loyalty.
He acknowledged that social network sites were unsecured and said people should always be wary.
Mr Sarkozy is one of the most unpopular presidents in French history, with an approval rating that has dropped below 30 per cent several times.