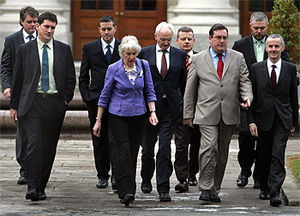 An early general election is on the cards after the Green Party dramatically pulled out of government yesterday.
In the Fianna Fail leadership race , three out of five TDs had yet to publicly declare who they were backing, although Micheal Martin remained the clear front-runner.
Cross-party talks involving Fianna Fail, Fine Gael, the Labour Party, Sinn Fein and the Greens will begin today to find a way to get the law needed to implement the Budget passed quickly.
The opposition is offering to facilitate the debate, but is not promising to vote for it.
But if Finance Minister Brian Lenihan cannot guarantee the Finance Bill will be passed by the end of this week, Fine Gael and Labour are threatening to push motions of no confidence, which Brian Cowen's minority Government cannot win.
Mr Cowen and Mr Lenihan both claimed last night that the legislation could not be passed in just one week, as it was too complex.
The Government and opposition parties insist the bill is a central plank of the IMF/EU bailout secured in November. And there are concerns that any uncertainty about its future will unnerve both international investors, the EU and IMF.
Independent TDs Jackie Healy-Rae and Michael Lowry warned last night that their support for the Finance Bill was "not guaranteed".
Both voted in favour of almost every government measure in the past four years, including budgets.
Green Party ministers John Gormley and Eamon Ryan resigned from Cabinet yesterday as the junior coalition partners announced they would be moving to the opposition benches.
The Greens' departure leaves just seven ministers in Cabinet -- the bare minimum required by the Constitution.
Mr Gormley said the party would still vote for the Finance Bill.
"Our patience has reached an end. Because of these continuing doubts, the lack of communication and the breakdown in trust, we have decided that we can no longer continue in government," he said.
Even if the Government succeeds in pushing the passing of the Finance Bill into next week, the general election will still be earlier than the March 11 date named by the Taoiseach just last week.
March 4, February 25 and even February 18 were last night being mooted as new dates.
Mr Cowen insisted his decision to resign as Fianna Fail leader was his own and that he was not told to go by senior party figures.
Running parallel to the talks on the Finance Bill is the Fianna Fail leadership contest.
Based on public declarations from Fianna Fail TDs, former Foreign Affairs Minister Micheal Martin is ahead of Finance Minister Brian Lenihan, Tourism Minister Mary Hanafin and Social Protection Minister Eamon O Cuiv.
But only 29 out of the 71 TDs in Fianna Fail have publicly said who they are backing.
Tally
A tally of votes by the Irish Independent shows 18 TDs behind Mr Martin, four backing Mr Lenihan, three supporting Ms Hanafin and four for Mr O Cuiv.
The remaining 42 TDs did not return calls or refused to publicly state who they would back in Wednesday's vote.
Mr Martin says a majority of the party's TDs have told him they will vote for him.
Mr Lenihan said he was the main challenger to Mr Martin.
Ms Hanafin said she wanted to ensure there were not just four men running.
Mr O Cuiv said he wanted the party to get back to basics.
Whoever wins the leadership contest will be facing into a general election campaign in their first week in the job.
There are fears within the party that it will be "almost impossible" for their new leader to make an impression on the public, given the short time available before polling day.
But former Defence Minister Willie O'Dea said the changeover would not come too late to boost Fianna Fail's prospects and "could make a difference".
Mr Cowen's resignation as party leader triggered a series of dramatic events over the weekend. Last night, the Taoiseach assigned Mr Gormley's role as Environment Minister to Mr O Cuiv and Mr Ryan's jobs as Energy Minister to Pat Carey.
Mr O Cuiv and Mr Carey now have three portfolios each.