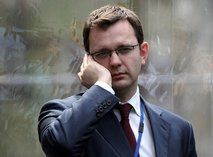 The British prime minister's powerful spin doctor resigned Friday amid claims he sanctioned widespread illegal phone hacking against politicians, celebrities and royalty when he was editor of a top-selling tabloid newspaper.
Andy Coulson denies any knowledge of the hacking, but admitted he'd committed a cardinal sin for a back room operator - he became the story.
Coulson said "continued coverage of events connected to my old job at the
News of the World
has made it difficult for me to give the 110 percent needed" in his role as Downing Street communications chief.
"I stand by what I've said about those events but when the spokesman needs a spokesman, it's time to move on."
A reporter and a private investigator working for the
News of the World
were caught illegally eavesdropping on the phones of the British royal family's entourage in 2007. Coulson quit the paper when the pair were convicted, but says he knew nothing of the hacking.
His resignation is a blow to Prime Minister David Cameron, who has resisted calls to fire Coulson despite the scandal.
It will bolster those skeptical of claims by the Rupert Murdoch-owned newspaper that phone hacking was carried out by a couple of rogue employees.
Cameron said that he was very sorry Coulson had quit, and believed his claim that he was ignorant of the spying.
"Andy Coulson resigned from the News of the World when he found out what was happening," Cameron said. "I've always felt he's been punished for the same offense twice."
The weekly
News of the World
has a circulation of more than 3 million and thrives on celebrity exclusives. The subjects of those stories have long puzzled over how the paper got its inside information. Many thought they had their answer when news of the phone hacking broke.
A police inquiry turned up thousands of numbers of potential phone-tapping targets, including celebrities, sports stars and senior politicians. The hacking worked by exploiting lax cell phone security to tap into targets' phones and eavesdrop on their voice mail messages.
The police investigation ended in only two convictions - royal reporter Clive Goodman and private investigator Glenn Mulcaire, both of whom received several months in prison for intercepting messages left for royal officials, including some from Princes William and Harry.
The newspaper maintained it was an isolated incident, and there seemed to be little hard evidence of Coulson's involvement.
But last year, former
News of The World
reporters were quoted by
The New York Times
and
The Guardian
newspapers as saying Coulson knew about the phone hacking, which they claimed was widespread at the newspaper.
Legal pressure on the paper has also been building, with lawyers for actress Sienna Miller filing court papers accusing the
News of The World
of illegal hacking and harassment. Ian Edmondson, a senior editor at the paper, has been suspended over those claims.
Other high profile Britons are either suing the paper for allegedly spying on them or have already accepted out of court settlements.
Police and prosecutors, stung by allegations that they were too easy on the paper, have recently reopened the investigation.
Chief prosecutor Keir Starmer said last week that a "comprehensive assessment" of all evidence would be held to determine "whether there is any material which could now form evidence in any future criminal prosecution relating to phone hacking."
The
News of The World
declined to comment on Coulson's resignation, but critics said it should have happened long ago.
"To say this is long overdue is an understatement," said opposition Labour Party lawmaker Chris Bryant - one of several legislators who claim to have been targeted by the newspaper.
The
News of the World
is owned by News International Ltd., a subsidiary of Rupert Murdoch's News Corp., whose U.S. media outlets include Fox Television,
The New York Post
, and
The Wall Street Journal
.
The four British national newspapers owned by Murdoch - including the tabloid
Sun
and more highbrow
Times
and
Sunday Times
- wield major political influence, and politicians are wary of displeasing them.
In the complex game of political media management, Coulson was seen as a street-savvy counterweight to the polished, Eton-educated Cameron and his affluent inner circle. There was no immediate word on who would replace him.
Raphael G. Satter contributed to this report.