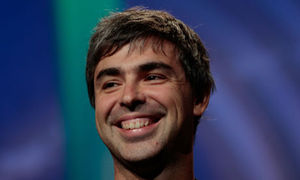 Long-time chief Eric Schmidt to become executive chairman

Web giant reports better-than-expected profits of $2.5bn
Larry Page, Google's co-founder, is taking over the reins at the search engine giant from long-time chief Eric Schmidt.
In a surprise move Schmidt delivered the news as the company announced fourth-quarter profits that were far better than analysts had expected. "Day-to-day adult supervision no longer needed!" he tweeted as the results were released.
Google reported a profit of $2.54bn (£1.59bn), up from $1.97bn a year earlier, far better than expected. Schmidt said it had been a "great privilege" to lead the company and he looked forward to working with his "literally best friends and partners Larry and Sergey."
The company said Page would take over from 4 April when Schmidt will become executive chairman, "focusing externally on deals, partnerships, customers and broader business relationships".
Schmidt has led the company since 2001 alongside Page and his co-founder Sergey Brin. Page said: "Eric has clearly done an outstanding job leading Google for the last decade. The results speak for themselves. There is no other CEO in the world that could have kept such headstrong founders so deeply involved and still run the business so brilliantly.
"Eric is a tremendous leader and I have learned innumerable lessons from him. His advice and efforts will be invaluable to me as I start in this new role. Google still has such incredible opportunity - we are only at the beginning and I can't wait to get started."
Schmidt said the three had been taking decisions together but it had been a slow process. "By clarifying our individual roles we'll create clearer responsibility and accountability at the top of the company. In my clear opinion, Larry is ready to lead and I'm excited about working with both him and Sergey for a long time to come," he said.
Brin would devote his energy to "strategic projects, in particular working on new products," Google said in a statement.
Google continues to dominate search and online advertising but has suffered setbacks in social media in recent months. Despite its enormous financial success in search and the rapid growth of the Android mobile operating system, Facebook and Apple have stolen the limelight from Google.
Last year Facebook ousted Google to become the most visited website on the planet. According to analyst eMarketer, Google accounted for 13.4% of total US display ad revenues in 2010, up from 4.7% in 2009. Meanwhile, Facebook accounted for 13.6% display revenues last year, up from 7.3% in 2009.
In a conference call Brin said there was plenty more that Google could do in social media and only the "tip of the iceberg" had been seen so far.
Last year Schmidt and Brin clashed over censorship and security in China. Google threatened to withdraw from the country after what it called a "highly sophisticated and targeted attack on our corporate infrastructure originating from China."
Schmidt and Brin had clashed over how to deal with China. Internally Brin is seen as the champion of Google's "Don't be evil" motto.
Colin Gillis, analyst at BGC Financial in New York, said the tension that the row engendered may have added to the reshuffle. But he said it was clear Google wanted to use Schmidt's political connections to the full.
"They need government outreach, officials in Washington and Europe are all taking a closer look at Google," he said. Gillis said that the wider issue may stem from inside the company.
While Google has bought and successfully integrated companies including YouTube, Android and ad firm DoubleClick, its recent record of internal innovation has been less impressive. Two attempts at social media, Google Wave and Buzz, have flopped. In part Gillis said the decision to put Page in charge may be an attempt to focus on that issue.
The news overshadowed an impressive set of results. Sales for the company, based in Mountain View, California, rose 26% to $8.4bn as they benefited from booming online sales over Christmas. According to comScore the holiday season was the best for online shopping since 2006, up 12% over last year.
Those sales and the growth of mobile pushed Google's net income in the fourth quarter to $2.5bn, up 29% from a year earlier.