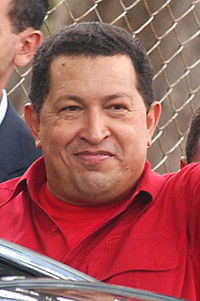 President Hugo Chavez said Thursday he won't relinquish special legislative powers - a possibility he raised last week as a means of seeking reconciliation with Venezuela's opposition.
Chavez's offer to reduce the period of time he has to enact laws by decree through the "Enabling Law" surprised opposition leaders, who welcomed his overture while expressing doubts regarding the president's call for mutual respect and dialogue between political rivals.
"I'm not going to return the Enabling Law," said Chavez, speaking in a televised address. "I made a call to encourage courteous and respectful dialogue, but look at their response."
Chavez first said that he needed special legislative powers for 18 months, which were approved by a lame-duck congress dominated by his allies in December, to swiftly approve disaster-relief measures after severe floods and mudslides that left thousands homeless last year.
But last week, Chavez said lawmakers could reduce the period from a year and a half to 5 months.
Critics have accused Chavez of using the "Enabling Law" to sidestep congressional controls by lawmakers in the new legislature, which was sworn in earlier this month.
Opposition lawmakers note that Chavez's allies gave him authority to legislate in a wide range of areas including land-reform initiatives and Venezuela's economic system - not just measures aimed at helping Venezuelans displaced by the floods.
Opposition lawmaker Jesus Paraqueima scoffed at Chavez's argument that he requires special powers to aid those affected by the floods.
"It's not necessary," Paraqueima said in a telephone interview. "If he needs an increased budget to help the homeless, we'd gladly approve it."
Chavez's ruling party has a strong majority in the assembly, but opponents gained ground in September congressional elections, winning 67 of the assembly's 165 seats. Their gains prevented Chavez allies from obtaining the two-thirds majority needed to pass some types of legislation.