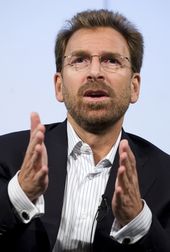 Jean-Marie Messier and Edgar Bronfman Jr. were found guilty by a Paris court of criminal charges related to Vivendi SA's near-bankruptcy after a $77 billion acquisition spree while they led the company.
Messier was fined 150,000 euros ($200,000) and Bronfman 5 million euros by a three-judge panel today. Neither was sentenced to jail time. Messier, 54, was found guilty of misleading investors during his tenure as Vivendi's chief executive officer. Bronfman, also 54, was found to have traded on inside information while vice chairman.
"On the points that were important to the rise in the Vivendi Universal shares," Messier made "statements of a nature to mislead investors," the judges wrote in their decision. Messier also "had awarded to himself, while the company was in grave difficulty, very large amounts, of a type to exacerbate its financial problems."
The conviction diverges from a civil jury verdict in a New York shareholder class-action lawsuit last January. That ruling cleared Messier and former chief financial officer Guillaume Hannezo of misleading investors and held the company solely responsible for the conduct.
"It is, in fact, a pretty low standard of proof that is required in French criminal courts," said Stephane Bonifassi, a white-collar criminal lawyer who isn't involved in the case. In France "you can get caught in criminal cases in things that would hardly be considered criminal elsewhere."
$50 Million Fine
Vivendi and Messier were fined by France's financial markets regulator in 2004 for misleading investors, penalties the Paris appeals court slashed in 2009. Vivendi paid a $50 million fine and Messier gave up a $25 million severance package to settle similar allegations by the U.S. Securities and Exchange Commission the year earlier.
"This condemnation is profoundly unjust; for this reason I have decided to appeal," Messier said in an e-mailed statement. He defended his strategic vision for Vivendi and said he "always led this company with integrity."
Messier received a three-year suspended sentence and Bronfman a 15-month suspended sentence at the hearing. Hannezo, who was also a defendant, was fined 850,000 euros and received a 15-month suspended sentence for misleading investors and insider trading. Hannezo's lawyer Jean Veil said his client hadn't decided on an appeal.
Messier nearly bankrupted Vivendi, buying 23 businesses to transform the water utility founded in the 1800s into a multimedia conglomerate.
At the end of his tenure, it owned the world's largest music company and video-game maker, as well as pay-television and telecommunications operations.
'Mistakes'
Messier, who stepped down in 2002, stood trial in June with five other former Vivendi officials and Deutsche Bank AG's former head of French equities. He was accused of misleading investors, stock-price manipulation and misuse of corporate funds related to the severance package he gave up in the SEC settlement. Messier was cleared of share-price manipulation.
At the June trial, Messier testified he made "mistakes" as CEO, while insisting that his strategy of uniting content and delivery was ultimately proven sound, if ill-timed.
Bronfman, chairman of Warner Music Group Corp. and Vivendi's vice chairman from 2000 until 2003, was accused of improperly gaining $12.8 million from exercising stock options based on non-public information about a planned share sale.
"My trades were proper," Bronfman said in an e-mailed statement, adding he will appeal the ruling. The board of Warner Music Group "fully supports Mr. Bronfman as he appeals this verdict," Scott Sperling, a Warner Music director, said.
Prosecutor Opposition
French sentencing rules link insider-trading fines to the amount of profit from the transactions, while the other charges carried penalty limits.
Paris prosecutor Chantal de Leiris opposed the investigating judge's decision to send the case to trial and recommended in closing arguments the men be cleared. In France, an investigating judge often takes the lead in complex investigations. That judge seeks the prosecutor's opinion when deciding whether to send people to trial, though isn't bound by it. Likewise, the prosecutor is not obliged to argue the investigating judge's position at the trial.