A Virginia teenager who was placed on the no-fly list and barred from returning home to the United States from Kuwait arrived at Dulles International Airport on Friday morning for an emotional reunion with his family.
Gulet Mohamed, a 19-year-old U.S. citizen from Alexandria, entered the arrivals terminal nearly two hours after his United Airlines flight landed. His attorneys said he had been kept after the flight by U.S. Customs and Border Protection agents.
As he emerged from the gate around 8:40 a.m., his brother Abdi Mohamed, 28, sprinted over and hugged him, shouting "Gulet!" repeatedly.
A sea of media then engulfed the teenager, even before he had a chance to embrace his mother. Mohamed - dressed in a worn hooded sweat shirt and sweat pants, his baby face framed by a fuzzy beard - smiled and pulled his hood over his face.
"My voice has been heard," he said moments later. But "there's other Muslims and non-Muslims that are still being tortured."
Mohamed was
detained
in Kuwait last month at the behest of the United States, according to his attorneys. They allege that Mohamed was beaten by Kuwaiti officials who questioned him about his travels in Yemen and Somalia after he left the United States in March 2009.
After Mohamed's family sued the government over the no-fly order, U.S. officials said the teenager would be allowed to leave Kuwait and fly to Washington. Mohamed arrived on United Airlines Flight 981 shortly before 7 a.m.
His attorneys said they tried to get immediate access to Mohamed, but were told by customs officials that the teenager was being questioned by the FBI.
The attorneys protested, saying Mohamed did not want to be asked anything without a lawyer present. After about 30 minutes, the lawyers said that customs agents told them Mohamed was not being questioned, but was being processed for his reentry into the United States.
Mohamed's relatives, bearing flowers and balloons, were visibly distraught. "We're so upset about this," said his sister, Zahra Mohamed, 26, who was fighting back tears. "We were so happy for him to come. Just give him to us."
Laster, as he left the airport in a taxicab, Gulet said in a brief interview that "it feels great to be back."
"I feel great. I feel wonderful," he said. Asked whether he was scared during his time in Kuwait, he said, "Of course I was scared. I'm still scared."
Mohamed's family has said that said he went overseas to study Arabic and Islam, stayed only a few weeks in Yemen, and then lived with relatives in Somalia and Kuwait. They said he has no connection with extremists.
Gadeir Abbas, a staff attorney with the Council on American-Islamic Relations who is representing Mohamed along with Nadhira al-Khalili, said FBI agents in Kuwait also tried to question the teenager despite the fact that he told them he wanted his American attorneys present for any interrogation.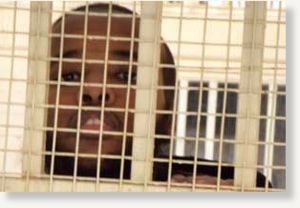 Civil liberties groups allege that Mohamed's case is part of a pattern in which American citizens are barred from flying to the United States so they can be questioned by U.S. agents while overseas and without counsel
.
Mohamed's attorneys sued Attorney General Eric H. Holder Jr., FBI Director Robert S. Mueller III, Terrorist Screening Center Director Timothy Healy and their respective agencies in federal court in Alexandria. They alleged that Mohamed's 14th Amendment right to reside in the United States and to reenter the country from abroad was being violated. And they asked U.S. District Judge Anthony J. Trenga to order the government to allow Mohamed to return home.
Justice Department lawyer Paul Freeborne told the judge that Mohamed would be taken from a Kuwait detention center Thursday and allowed onto the flight from Kuwait to Washington.
The judge said he did not need to issue an order, given the government's statement, but said he would hold a hearing Friday if Mohamed was not allowed to leave.
Mohamed is the youngest of seven children in a family that fled Somalia when he was a baby. He became a U.S. citizen about five years ago, family members said.
Abbas said he might sue the U.S. government for violating Mohamed's rights by orchestrating his detention and attempting to question him without an attorney present.
A State Department spokesman said this month that Mohamed was not detained at the behest of the United States.