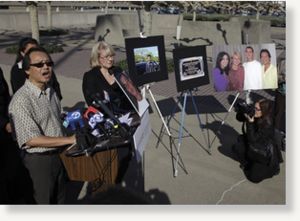 The parents of a slain college student said Thursday that former Gov. Arnold Schwarzenegger "messed with the wrong family" by reducing the prison sentence of the son of a political ally.
Fred and Kathy Santos spoke after filing a lawsuit in Sacramento County Superior Court asking a judge to restore a 16-year sentence for Esteban Nunez, the son of former Assembly Speaker Fabian Nunez.
"Arnold Schwarzenegger underestimated us," Kathy Santos said outside the courthouse. "I think he believed he could get away with this despicable commutation. He messed with the wrong family."
The younger Nunez, 21, pleaded guilty to voluntary manslaughter and two counts of assault with a deadly weapon for his involvement in the 2008 stabbing death of Luis Santos on the San Diego State University campus.
Prosecutors said Nunez and his friends were irate after being turned away from a fraternity party and were looking for revenge. After drinking alcohol, prosecutors alleged, they headed out on the street and came upon an unarmed group that included Santos, 22.
Schwarzenegger reduced Nunez's sentence to seven years the night before he left office and did not contact the family or the San Diego County district attorney's office before making the move.
Daniel Ketchell, a personal aide to the former Republican governor, said he had not spoken with Schwarzenegger in several days and declined to comment on the lawsuit. Schwarzenegger has been in Maryland this week helping his family cope with the death of his father in law, Sargent Shriver.
Brad Patton, an attorney for Esteban Nunez, said the Santos family "wouldn't be satisfied with anything other than an unjust sentence, which was imposed on Esteban Nunez."
In issuing the commutation, Schwarzenegger called the sentence excessive because Esteban Nunez did not stab the student who died. Authorities said Nunez stabbed two other men who survived. Still, under California law, his involvement in the crime made him responsible for the death of Santos.
Santos' parents, who live in the San Francisco Bay area city of Concord, accused the former governor of granting a favor to a political ally and said they had no notice about the action.
The Santos family is suing under Marsy's Law, which amended California's constitution to give victims advance notice of legal proceedings and the right to fight early release of felons. The lawsuit names Schwarzenegger and the state corrections department as defendants.
"Although he's allowed to commute sentences, he's not allowed to violate the constitution when he does so," said Laura Strasser, an attorney representing the Santos family.
Another attorney, Nina Salarno-Ashford, said the family's goal was to secure an injunction stopping the commutation and reinstating the original sentence.
Patton, the attorney representing Esteban Nunez, said Marsy's Law does not apply to the governor's authority to issue clemencies.
"Marsy's Law applies to the criminal justice system, and not to the executive branch," he said.
Schwarzenegger has refused to answer questions about his decision but wrote a letter Jan. 5 to the parents of Luis Santos acknowledging that his last-minute action provided no notice.
Fred Santos said Thursday that the governor's letter was nothing more than "a publicity stunt to shut me up" and offered more excuses.
"As victims, it's tough enough that we have to deal with the horrible loss of our child," Santos said. "And with politicians trying to do this to us, that makes it even more horrific than the original crime itself."
The family also has filed a civil lawsuit in San Diego against Esteban Nunez and the three others who were involved in the killing.
Fabian Nunez served three, two-year terms in the state Assembly and was speaker from 2004 to 2008. The Los Angeles Democrat cultivated a close relationship with Schwarzenegger that led to their agreement on infrastructure bonds and a landmark law to reduce greenhouse gas emissions in California.