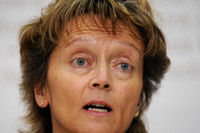 Switzerland is the destination of choice for people from abroad who want to die. The office of the country's top legal official is pushing to change that.
While assisted suicide is permitted in the Netherlands, Belgium and the U.S. states of Oregon, Washington and Montana, only Switzerland allows doctors to help foreigners end their lives. More than 25 percent of the 380 assisted suicides in Switzerland during 2009 involved foreigners, most of whom died after drinking water laced with a lethal dose of barbiturates.
Former Justice Minister Eveline Widmer-Schlumpf, who was replaced by Simonetta Sommaruga in November, has proposed making the practice more difficult by demanding oversight by doctors who aren't connected with one of the country's four right-to-die organizations. Assisted suicide has been legal in Switzerland since 1942.
"Those Swiss politicians who want to change the rules on assisted suicide behave like moral apostles," said Margrit Weibel, president of Zurich-based suicide organization Ex International. "They are backward-looking people, entangled in the Christian belief that human beings don't have the right to make decisions on when to end their lives."
The possibility of the new rules passing is slim as they are opposed by Switzerland's four biggest political parties. Voters in Zurich, Switzerland's most populous canton, will decide in May whether to support a ban on assisted suicide. The initiative is backed by the Federal Democratic Union party led by Hans Moser, who also endorses the equal treatment of creationism and evolution in schools.
'Way Forward'
The Federal Democrats are in the minority. About 73 percent of Swiss people support assisted suicide, even when the person isn't terminally ill, according to a study published in September by Christian Schwarzenegger, professor of criminal law at the University of Zurich.
"It was the right thing to do," said Susanna Bon, referring to the suicide four years ago of a friend, who needed morphine injections to escape the pain of a degenerative condition. "The way forward was either suffering for months or ending her life."
Advertisements run by suicide organizations hurt Switzerland's reputation, the government said when explaining the proposed changes. About 40 percent of those taking their lives in the five years through 2009 were foreigners, according to data compiled by Bloomberg News.
Swiss doctors, working through Dignitas and Ex International, helped about 105 foreigners commit suicide in 2009, including about 50 from Germany, where laws and rules regulating medical professions and drugs make it almost impossible to help terminally ill people end their lives.
Suicide Paradise
"This country shouldn't become a paradise for suicide tourists," said Marianne Binder, a spokeswoman for the Christian Democratic Party. "If Germany's legislation is less liberal, Switzerland shouldn't have to pay for that."
A doctor attached to one of the four assisted-suicide organizations currently prescribes a lethal drug after assessing a person's desire to end their life and checking that they haven't been coerced. The rules proposed by Widmer-Schlumpf, who's now finance minister, would require verification by an "independent" doctor before another physician checks to confirm that the person has an incurable disease and is close to death, according to Zurich-based Exit-Deutsche Schweiz, whose 22 trained volunteers assist with about 200 suicides a year. The proposal is "inhumane," Exit-Deutsche Schweiz Vice President Bernhard Sutter said in an interview.
'Liberal Solution'
Sommaruga, 50, hasn't said whether she supports the tougher federal rules proposed by her predecessor. "The work is ongoing," said Justice Ministry spokesman Folco Galli, declining to be more specific.
Sommaruga's Social Democratic Party expects opposition to the government's proposals to prevail.
"The current liberal solution doesn't seem to be negotiable in Switzerland as both parliament and Swiss voters are against stricter rules," said Daniel Jositsch, a Social Democrats' lawmaker who sits on the parliamentary committee dealing with assisted suicide.
The federal bill's provision that death must be "imminent" infringes on a person's right of self- determination, said Elke Baezner, president of a German right- to-die organization and former head of Exit-Deutsche Schweiz.
"Imagine a 94-year-old woman, suffering from a degenerative disease such as arthrosis and unable to move her hands, deaf and maybe blind," said Baezner. "Even if she might have some more months to live, it's understandable that she wants to go, but Swiss lawmakers won't let her."
Public Opinion
"Weariness of life" rather than a terminal medical condition may be a more common reason for older members of Exit Deutsche Schweiz to commit suicide, according to a 2008 study by Susanne Fischer, a researcher at the University of Zurich.
Almost half of Dignitas's 5,698 members were German at the end of 2009. For an annual fee of 80 Swiss francs ($83.03), they receive suicide assistance and counseling. There are also 724 members from the U.K., 469 from France, and smaller numbers from China and Brazil.
While the government's proposals are supported by individual lawmakers, opposition from the country's biggest political parties makes change at national level less likely. That prospect pleases Bon, who said goodbye to her 75-year-old friend in 2007.
"She knew there was no way back," Bon said. "Without being able to choose a way out, it would have been much more difficult for her."