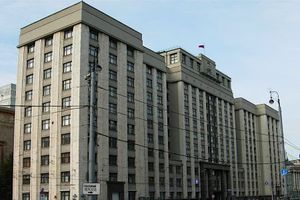 Russia's lower house of parliament has voted in favor of ratifying the new START treaty with the United States, albeit with conditions.
The State Duma set its terms for approving the Russian-American Strategic Arms Reduction Treaty (START) on the second reading on Friday, the state-run Ittar-Tass news agency reported.
According to the head of the State Duma foreign relations committee Konstantin Kosachev, the conditions include circumstances that would push Russia to withdraw from the new START treaty as well as the possibility of further Moscow-Washington talks on similar treaties.
The draft law was adopted by a 349-57 vote with two abstentions.
The Russian lower house of parliament had, on December 24, 2010, voted 350-58 against the new START treaty, which was signed by Russian President Dmitry Medvedev and US President Barack Obama last April.
Earlier on Friday, Russian Foreign Minister Sergei Lavrov said Moscow was "absolutely" opposed to US Senate additions to the treaty, which denies the link between missile defense and strategic arms.
"We are absolutely not in agreement with this. This is an arbitrary interpretation of the principles of international law," he told the State Duma.
"The Senate's resolution claims that the treaty does not apply to new kinds of non-nuclear strategic weapons that could be developed in the future. But this is not true," Lavrov added.
On December 22, the US Senate attached non-binding amendments to Washington's historic nuclear weapons reduction pact with Moscow.
The additions recommit the United Sates to deploy a missile defense system, modernize its nuclear arsenal and seek talks with Russia on curbing tactical nuclear weapons, according to the New York Post.
The new START would limit Washington and Moscow to a maximum of 1,550 deployed nuclear warheads each.