Period of remorse needs to be over,' says Barclays chief, defying MPs over bonus culture.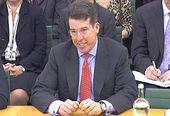 The time for bankers to show any remorse for the failings that dragged Britain into the worst recession since the Wall Street crash is "over", the new boss of Barclays said yesterday, as the fury over the City's forthcoming £7bn bonus binge grows.
An unrepentant Bob Diamond, who will collect a pay package worth about £8.5m this year, faced down his critics at the Treasury Select Committee. Asked if David Cameron or George Osborne had asked him during their meetings to show restraint over his own bonus, Mr Diamond said: "No."
He also told MPs that he "resented" some of their lines of questioning.
Mr Diamond batted away the possibility of waiving his bonus, saying: "I haven't been offered a bonus yet. That decision is out of my hands. I would discuss [waiving] it with my family."
Responding to suggestions that Barclays Capital, the separate investment bank he used to run, indulged in "casino capitalism" and "black jack", Mr Diamond responded angrily.
"I resent the fact you refer to it as black jack. I think it is wrong. I think it is unfair. I think it is a poor choice of words. We have some fantastically strong financial institutions in this country and I think they deserve better. It is not appropriate to talk about casino banking in Barclays Capital."
Mr Diamond's broader attempts to defend the City did not dampen the heat over bonuses. Committee member John Mann accused Barclays of operating in a "moral haze", while its chairman Andrew Tyrie, a Conservative, suggested that banks might be less inclined to take risky decisions if their chief executives were faced with unlimited liability for losses they caused, as used to be the case in the City of London's old partnership stockbrokers.
The three hours of testy exchanges follow the weekend climbdown of the Coalition on what was supposed to have been a crackdown on bank bonuses. Both Mr Osborne and Mr Cameron have made headlines with their harsh words for the banks in the past, as have their coalition partners Nick Clegg, the Deputy Prime Minister, and Vince Cable, the Business Secretary.
But the Government has been left trying to dampen the public outrage over a new round of high bonuses. The Treasury is trying to obtain new commitments from the banks to lend more to small businesses - although critics point out that the banks are already missing such targets for lending.
When pressed on improving lending to small businesses, Mr Diamond refused to set targets and would not pledge to resign if Barclays ended up not lending more to small businesses.
Afterwards, Mr Osborne made an emergency Commons statement. The Chancellor said that he was "now in discussions with the banks to see if we can reach a new settlement, where the banks pay smaller bonuses than they would otherwise have done". Mr Osborne added that he wanted banks to be "more transparent about those [bonuses] they do pay; make a greater contribution to local communities and the regional economy; treat customers fairly; and above all lend materially and verifiably more than they were planning to the businesses of Britain - especially the small businesses - so that they can grow and create jobs this year."
He insisted that if a deal was not done "nothing remains off the table". Treasury sources said later that could mean a higher levy on banks' balance sheets, already due to raise almost £10bn during this parliament. However, the most likely outcome is the announcement of a voluntary agreement with the banks in the next few weeks.
Asked what Mr Diamond should earn, Mr Osborne said that it should be less than last year.
To head off criticism of his own package - likely to come to around £8.5m this year - Mr Diamond sought to stress his humble origin as the son of two teachers in New England who "learned, perhaps too early, that if I wanted a new shirt or a new football I had to pay for it myself". Despite his strong words, Mr Diamond insisted at one point that he "understands" the mounting public anger at the prospect of champagne in the City when the rest of the country is facing a climate of job losses and austerity as the Government battles to bring the UK's budget deficit under control.
"I understand there is debate in the area of bonuses. I'm committed as CEO to being responsible, on showing restraint," Mr Diamond said. But he defended the payment of bonuses, saying he couldn't "isolate" them at Barclays Capital, which he said had to compete with foreign giants such as "Deutsche Bank, Goldman Sachs and JP Morgan". "That's not in my gift," he said, adding: "We haven't made any decisions on bonuses for this year. The board will meet in the next few weeks. Our shareholders are certainly closely involved. Competitive pay for performance is not pay for failure."
Mr Diamond said he was committed to increase lending to businesses but they had to be "credit-worthy".
He also gave a clear commitment that Barclays plans to remain in London, contrasting the thinly veiled threats to quit made by rival HSBC and Standard Chartered if politicians fail to take some of the heat out of recent rhetoric. Some earlier statements Mr Diamond has made about Barclays' location could be seen as equivocal, such as when he stressed investment banking is "mobile".
"We took our first deposits in the City of London in 1690. We have 320 years of history in London. We have no intention of changing that... We respect the process. Our starting position is clear. We will be here in the UK and this is the place we want to succeed."
Mr Diamond described the UK's advantages: "Nowhere in the world has benefited from or been more supportive of foreign trade. It is good for business, good for raising capital and good for attracting talent. There are some issues. We are going to have a reduction in employment; we have to hand the mantle [for economic growth] to the private sector and to banks."
Asked if Barclays was "too big to fail", Mr Diamond said: "No, I don't think so. No bank should ever be a burden on the taxpayer. We have to make the system safer and more sound. It is not OK for taxpayers to bail out banks."