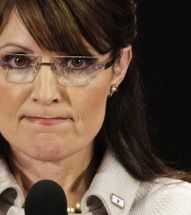 Telling voters to 'reload' and 'aim for' Democrats was perfectly fine, Sen. McCain argued in March
Rep. Gabrielle Giffords (D-AZ), who was
shot
Saturday during a public event in Tucson, was among 20 other members of Congress who were on a so-called hit list published by former Alaska Governor Sarah Palin.
Palin, who has never publicly advocated violence against fellow US politicians, has often employed rhetorical attacks that leverage imagery and terminology familiar to gun owners and evocative of firearms. She said in March that her supporters should "reload" and "aim for" Democrats, ostensibly with their votes.
A map of the US, published on Palin's Facebook page, featured targeting crosshairs over individual congressional districts Palin had targeted for intense campaign efforts. While her note called for "pink slips," she added that supporters should fire a "salvo" at those lawmakers. Rep. Giffords was on the list.
Hours after Giffords was shot, that list was still
available
on Palin's Facebook page. (
Screenshot
.)
At the time of her post, commentators on the left reacted with alarm, saying Palin's words might be taken as an incitement to violence.
"Most (but probably not all) Palin supporters may insist the tuckered-out former Alaska governor meant 'reload' metaphorically," Salon's Joan Walsh wrote. "But in a country where angry right-wingers carry guns to see the president speak, and spit on African-American congressmen, I thought it was a chilling statement. Will any Republican denounce Palin's language?"
"I'm not one who believes she's trying to incite violence," MSBNC's Lawrence O'Donnell insisted. "I'd have to give her a very big benefit of the doubt that this is what it sounds like when you're a hunter from Alaska." He was concerned, however, that even if Palin's gun imagery was inadvertent, it could still have a negative effect.
Sen. John McCain (R-AZ), who selected Palin to be his running mate in the 2008 presidential election, took up for her at the time, saying: "I have seen the rhetoric of 'targeted districts' as long as I've been in politics. ... To say that there's a targeted district or that we 'reload' or 'got back into the fight again.' Please. ... Those are fine. They're used all the time."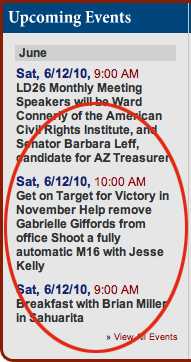 "My sincere condolences are offered to the family of Rep. Gabrielle Giffords and the other victims of today's tragic shooting in Arizona," Palin wrote on Saturday. "On behalf of Todd and my family, we all pray for the victims and their families, and for peace and justice."
Jesse Kelly, Giffords' Republican opponent in the 2010 mid-term elections, similarly employed guns in a
campaign event
. He staged an event in July asking supporters to "get on target" and "remove Gabrielle Giffords from office" -- all while shooting "a fully automatic M16 with Jesse Kelly."
"We are all deeply saddened by this morning's shooting," Kelly wrote Saturday night. "Gabrielle Giffords, the other victims, and their families are in our prayers."
In a statement hours after Giffords was shot, Rep. John Boehner (R-Ohio), newly-elected Speaker of the House, said: "I am horrified by the senseless attack on Congresswoman Gabrielle Giffords and members of her staff. An attack on one who serves is an attack on all who serve. Acts and threats of violence against public officials have no place in our society. Our prayers are with Congresswoman Giffords, her staff, all who were injured, and their families. This is a sad day for our country."
Giffords, a Democrat who took her seat in Congress in 2007, advocated for immigration reform, health care reform, renewable energy and other progressive issues.