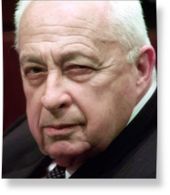 The personal doctor of Ariel Sharon says the comatose former Israeli prime minister responds to pinches and opens his eyes when spoken to.
Dr Shlomo Segev made the remarks in a programme broadcast on Saturday (local time) on Israeli television that coincided with the fifth anniversary of the massive stroke that incapacitated the ex-prime minister.
The 82-year-old Sharon is a former war hero who led Israel from 2001 until the 2006 stroke that left him comatose. Severe haemorrhaging caused significant brain damage and he has been in a vegetative state since. Former Sharon spokesman Raanan Gissin told The AP there has been no change in Sharon's condition.
Sharon was moved home in November, but Gissin said he has since been returned to the long-term care facility outside Tel Aviv for treatment.
Source: Associated Press