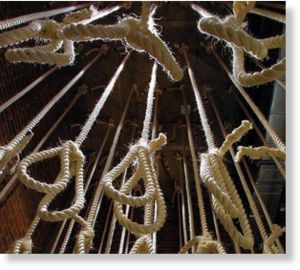 Iran on Tuesday hanged a man found guilty of feeding Israeli spy agency Mossad with Iranian military secrets and information on its missile programme over a period of six years, news agency IRNA reported.
Ali Akbar Siadat was hanged in Tehran's Evin prison after being condemned to death for "working for Mossad," IRNA quoted the Tehran prosecutor's office as saying.
Siadat was found guilty of having had links with Mossad for six years. "He had received 60,000 dollars to give classified information to the Zionist regime," the state news agency said.
Siadat had acknowledged having established contacts with one Israeli embassy overseas and that he had been giving information "about missiles belonging to the Revolutionary Guards."
He was also transferring information "to the enemy of military bases, fighter jets, the number of training flights, airplane accidents and air systems of the Revolutionary Guards," the report said.
The Revolutionary Guards, Iran's powerful ideological army, controls the country's sensitive missile programme, including the Shahab-3 missile which Tehran says can reach Israel and US bases in the Gulf.
Three years ago Siadat had received a computer and other equipment for his work. He used to meet his contacts from the Israeli intelligence service in hotels in Turkey, Thailand and the Netherlands, IRNA said.
It added that he was found with 29 pages of classified information when arrested two years ago with his wife while trying to leave Iran.
Iranian media on Sunday announced that another Iranian had also been sentenced to death for working as a spy for Israel.
His identity will be revealed after confirmation of the sentence, Tehran prosecutor Abbas Jafari Dolatabadi said, according to Mehr news agency.
Media reports late October quoted Dolatabadi as saying that two Iranians had been charged with spying for Israel, which accuses Tehran of seeking to develop atomic weapons under the guise of a civilian nuclear programme.
In November 2008, Iran executed an Iranian telecom salesman convicted of spying for the Jewish state. In the same month Iran said it had busted a ring of Iranians who spied for Israel after being trained in Tel Aviv.
It was unclear whether Siadat was among those arrested in November 2008.
Iran routinely accuses arch-foe Israel of carrying out hostile activities against the Islamic republic, including espionage against its armed forces and its nuclear programmes.
Iranian officials have accused the Israeli intelligence services, as well as the United States and Britain, of attacking two of its top nuclear scientists on November 26.
Majid Shahriari, a senior scientist involved in Iran's nuclear activities, was killed by a bomb placed against his car. Fereydoun Abbassi Davani, another top nuclear expert, was wounded in a similar attack.
Israel and its ally the United States have not ruled out a military strike against Iran to stop its nuclear programme.
Iran denies that its programme of uranium enrichment is aimed at making nuclear weapons.
IRNA reported that another man, Ali Saremi, was also hanged on Tuesday in Evin prison after he was found guilty of anti-revolution activities.
Saremi, a member of the People's Mujahedeen Organisation of Iran (PMOI), the main armed opposition group, was charged with participating in activities of counter-revolution groups and providing them with information.
The latest two hangings bring to 171 the total number of people executed in Iran so far this year, according to an AFP count based on media reports. At least 270 people were executed in 2009.
Along with China, Saudi Arabia and the United States, Iran has one of the highest numbers of executions each year.
The Islamic republic says the death penalty is essential to maintain law and order and is applied only after exhaustive judicial proceedings.
Murder, rape, armed robbery, drug trafficking and adultery are other crimes punishable by death in Iran.