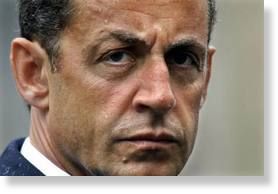 President Nicolas Sarkozy was yesterday accused of calling French journalists "paedophiles" in a furious off-the-record exchange at the Nato summit in Lisbon last week.
The Elysée Palace denied that the President had ever used the word but a news magazine and an investigative website reported that Mr Sarkozy had lost his temper when questioned about "Karachigate" - allegations of kickbacks on French submarine sales to Pakistan in the 1990s.
The magazine
L'Express
and the website
Mediapart
said that President Sarkozy was briefing the Elysée press corps on Friday night about developments at the Nato summit. A journalist asked him a question about the latest developments in the Karachigate affair: allegations that the cancellation of commissions on a French submarine contract led to a bomb attack in Karachi in May 2002 in which 11 French engineers and four Pakistanis died.
Mr Sarkozy is then reported to have launched into a tirade about press ethics and the use of unnamed sources. "You say ridiculous things. You check nothing," he said to the journalist who asked the question.
"I have nothing against you but it seems that you are a paedophile. I am personally convinced of that fact. I have spoken to the security services but I won't tell you which ones. I have seen someone but it was just a verbal exchange. But now I am personally convinced that you are a paedophile."

After a stunned silence, the briefing moved on to other subjects. Before he left, President Sarkozy is reported to have said to the journalists: "So long paedophiles, see you tomorrow."
The Elysée Palace has denied that Mr Sarkozy ever called journalists paedophiles.
L'Express
reported, however, that Elysée officials had insisted that all recordings of the briefing must be wiped clean because the encounter was "off the record".
President Sarkozy's temper and use of unpresidential language have got him in trouble before. In 2008 he was recorded saying to a member of the public who refused to shake his hand: "Casse toi, pauvre con" ("Bugger off, you stupid cretin").
"Karachigate" is a long-running saga. Magistrates are investigating allegations that kickbacks on the submarine contracts were paid in 1994-95 to the presidential campaign of the then Prime Minister, Edouard Balladur. When President Jacques Chirac was elected in May 1995 he cancelled the remaining "commissions" to Pakistani public figures. There have been allegations - but no proof - that this led to a revenge attack on a bus carrying French submarine engineers in Karachi.