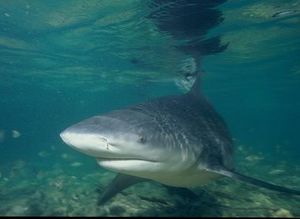 Bull sharks are common in Dog River, Fowl River and the rivers of the Mobile-Tensaw Delta, according to a tracking effort conducted by the Dauphin Island Sea Lab.
During the last two years, 34 newborn sharks have been fitted with radio tags that transmit signals to receivers set up in the rivers around Mobile Bay.
While last year's data suggested that the babies were making use of the coastal rivers, it has now become apparent that sharks coming into their second year are staying in the area and using the rivers as they get larger.
The researchers said they also routinely catch adult bull sharks in Mobile Bay and Mississippi Sound, some longer than 6 feet.
The young sharks range from 2 to 4 feet in length. Most were tagged after being caught around Dog River or Gaillard Island, sometimes only days after being born. Some tagged last year around Dauphin Island have turned up in Dog River this year. Others tagged in Mobile Bay have been picked up on receivers in the Pascagoula River.
"In the Delta, we have receivers set up on the Blakeley, Tensaw and Apalachee rivers," said Marla Valentine, a Sea Lab research technician who collects the data from the receivers. "We've had a lot of activity at all of our receiver arrays this year...one shark has gone up both the Blakeley and the Apalachee."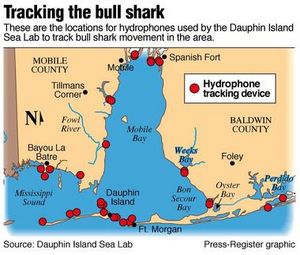 Bull sharks are known to be far more tolerant of freshwater than other species. In the last few years, there have been reports from state wildlife officials of adult bull sharks as far inland as the Claiborne Lock and Dam on the Alabama River.
The young sharks are using that freshwater tolerance to their advantage in Mobile Bay, according to the researchers.
"If you are a small shark, and you are outside the Bay, you are competing with all the other small sharks. If you go up to the northern part of the bay and into those rivers, you have unfettered access to a lot of fish that other sharks aren't eating," said Marcus Drymon, who recently earned a doctorate for his shark research. "And if you are a little shark, one of your main predators is bigger sharks. If you move into those areas where the water is less salty, you are getting away from most of those bigger animals."
Matt Ajemian, a doctoral candidate at the University of South Alabama and participant in the shark study, said young bull sharks in fresh or brackish waters eat whatever is available, including catfish, stingrays, menhaden and just about anything else they can fit into their mouths.
He said a 4-foot bull shark in the Delta is the apex predator in that system, a significant advantage in terms of growth.
For several years, Ajemian has been fitting cownose rays - migratory relatives of the stingray that routinely grow to 25 pounds - with radio and satellite tags. The tags have shown that animals seen in Mobile Bay sometimes migrate to Louisiana or far offshore into water more than a thousand feet deep.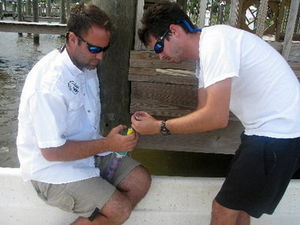 The tags also reveal that the big rays can swim tremendous distances in a day. One animal moved from the mouth of Mobile Bay, down the length of Dauphin Island to Katrina Cut and then across the Mississippi Sound to a spot near Bayou La Batre, a trip of about 18 miles.
Ajemian is studying the rays in part because they are blamed for wiping out what had been a thriving commercial scallop fishery in North Carolina. Scientists believe the cownose ray population may have increased substantially in recent years, but little is known about them.
"Obviously, people have studied bull sharks and cownose rays before in other places, but Mobile Bay is probably the northernmost part of their range," Ajemian said. "This is a unique habitat for them, and it appears to be an important one."