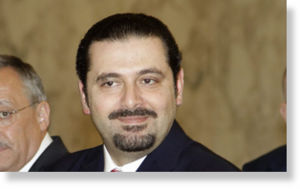 Sa'ad al-Hariri signals further rapprochement with Syria, saying it was a mistake to blame Damascus for his father's 2005 murder.
Lebanon's prime minister, Sa'ad al-Hariri, has said it was a "mistake" to accuse Syria of the assassination of his father, Rafiq al-Hariri.
Hariri's comments mark part of the ongoing reconciliation between the two countries following Syria's withdrawal from Lebanon after the "
Cedar Revolution
" protests that were triggered by the 2005 killing.
"At a certain point we made a mistake in accusing Syria of assassinating the martyred prime minster,"
Hariri told al-Sharq al-Awsat
, the London-based Saudi daily. "
That was a political accusation and that political accusation has now come to an end
." The UN tribunal investigating the affair would look "only at the evidence", he added.
Syria, which was widely blamed for the bombing that killed Hariri and 22 others, has always denied involvement but the issue remains highly sensitive in Lebanon.
Tensions have been mounting ahead of reported plans by the
UN tribunal to indict members of the Lebanese Shia movement Hezbullah
, which is backed by Syria and Iran. Hezbullah has denied any involvement and recently blamed Israel for it.
In recent months Sa'ad al-Hariri has visited Damascus several times for talks with President Bashar al-Assad, but his comments exonerating Syria of his father's murder were clearer than previously.
Nadim Shehadi, a Lebanon expert at the Chatham House thinktank in London said: "Hariri has not said this so explicitly before but it is consistent with everything he has been doing. His policy has been to put the whole assassination in a box called the tribunal and try to allow normal life to carry on. He's keeping his friends close and his enemies closer."
Hezbullah's leader, Sheikh Hassan Nasrallah, said last week that he does not recognise the legitimacy of the tribunal and would co-operate only with the Lebanese judiciary. The prosecutor, Daniel Bellemare, has complained that evidence handed over by Hezbullah is "incomplete".
Last month, Nasrallah displayed what he said were intercepted aerial
surveillance tapes that indicated Israeli intelligence had been tracking Rafiq al-Hariri's movements
before his death and claimed he had more evidence against the Israelis. Lebanese security authorities have arrested dozens of alleged Israeli agents in recent months.
Israel has dismissed Hezbullah's claims as "ridiculous". The UN has never pointed to possible Israeli involvement, which Hezbullah says is a sign of bias.
Preliminary reports by a tribunal committee concluded there was evidence implicating Syrian and Lebanese intelligence services in the murder but there are no suspects in custody. Four pro-Syrian Lebanese army generals were detained without charge for four years before they were
released for lack of evidence
.
Rafiq al-Hariri was a billionaire businessman who had been a close ally of Syria but had been trying to limit Syria's influence in Lebanon in the months before his death. He was also close to Saudi Arabia and France, which was instrumental in moves to investigate his assassination.