One wonders... Did the inhabitants of galaxy NGC 891 duck when Comet McNaught flew past the edge-on spiral on the morning of June 8th? Mike O'Connor and Tristan Dilapo took this picture of the cosmic close encounter from Colden, New York: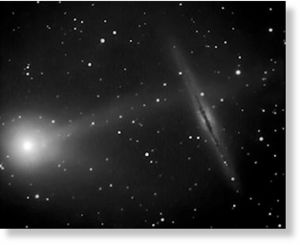 "The comet was only 10 degrees above the horizon," says O'Connor. "Nevertheless, we got a good picture using a 12-inch telescope and an SBIG ST9-E camera."
And, no, the denizens of that distant galaxy did not flinch, flee, duck or take notice in any way. NGC 891 is 30 million light years away, far removed from the willowy tail of Comet McNaught.
We Earthlings are having the true close encounter. Comet McNaught (C/2009 R1) is gliding through the inner solar system, due to approach our planet only 100 million miles away on June 15th and 16th. The approaching comet looks great in small telescopes, and may yet become a naked-eye object before the end of the month. Because this is Comet McNaught's first visit, predictions of future brightness are necessarily uncertain; amateur astronomers should be alert for the unexpected.
Get the
full story
and a
finder chart
from
Sky & Telescope
. See also:
ephemeris
,
3D orbit
.
More images: from
Kerry-Ann Lecky Hepburn
of Grimsby, Ontario; from
Gregg Ruppel
of Ellisville, MO; from
Michael Jäger
of Turmkogel, Austria; from
Scott Tucker
of Tucson, Arizona; from
Jeff Greenwald
of Laramie, Wyoming; from
Feys Filip
at the Public observatory "Sasteria" in Crete; from
Gary
of Fort Davis, TX; from
Baqir
of Quetta, Pakistan