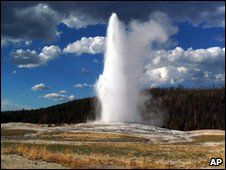 A lightning bolt has struck nine people waiting to see the Old Faithful geyser erupt at Yellowstone National Park in the US state of Wyoming.
All the visitors were on the boardwalk or walkways around the geyser when the
single lightning bolt struck
.
One of the nine people hurt was taken to hospital in Idaho for treatment.
Yellowstone spokesman Al Nash told the Associated Press news agency that the 57-year-old man was to be discharged from the hospital on Wednesday evening.
It was not clear what injuries he had suffered.
Seven others were treated at Old Faithful Clinic for tingling, numbness and shortness of breath.
Hundreds of visitors to the park witnessed the incident as they awaited the next eruption of the geyser.
According to Yellowstone National Park, Old Faithful erupts every 35 to 120 minutes for between one-and-a-half and five minutes at a time.