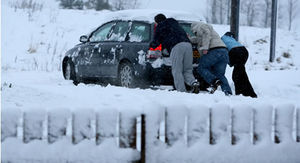 Twenty thousand homes were left without power today as high winds, snow storms and rain battered Scotland and ice gripped overhead power lines.
Ten lorries were also stranded on the M90 as temperatures plunged below freezing. Police urged drivers to take care on some of the water-swamped roads this evening and forecasters predicted the cold snap would last for another two days.
The 20,000 homes without power are in central and southern Scotland, said ScottishPower.
Ayrshire was worst hit, with 7,000 homes in Largs and Fairlie affected.
A spokesman said some of the 20,000 homes affected throughout today were only without electricity for a few minutes.
About 1000 homes remained without power at 4pm today but engineers were working on the problems.
Frank Mitchell, director of ScottishPower Energy Networks, said:"Just when we thought we were heading into summer, we have actually experienced some of the worst weather conditions of the entire winter.
"The combination of high winds, ice and snow has been particularly bad in certain areas and has had a major impact on the electricity network today, specifically in North Ayrshire.
"Although we have fixed the majority of faults today, the weather forecast for the next 24 hours is for more high winds, sleet and snow, so our engineers remain on high alert for potential problems."
Flood watches are in place in East Lothian, Midlothian, West Lothian and Edinburgh after heavy rain overnight and throughout today,police said.
A spokeswoman for Lothian and Borders Police said: "The poor road conditions are going to be an issue for drivers in tonight's rush-hour traffic, so we would ask that motorists remain patient and drive according to the road conditions.
"Even if the rain should subside, road conditions will be affected for some time."
The north of Scotland was worst affected during the night, with temperatures dropping to minus 5C in Cairnwell, near Braemar.
The lorries were stuck for several hours on the M90 as temperatures plummeted overnight across the country.
Around three inches on snow settled on the road overnight, close to Bridge of Earn, making driving conditions difficult.
Snow ploughs and gritters cleared the road overnight and police said traffic was now flowing as normal by 8am.
Brendan Jones, of weather forecasting service MeteoGroup, said: "It is very much a deteriorating picture going into tonight. There's quite a lot of snow across almost all of the country - very few places will not be affected.
"Over the high ground it has already started to snow. The colder air is coming in from the north undercutting the rain and sleet. Winds will be gusting at between 50mph or 60mph over night creating drifting snow.
"Even populated areas including Glasgow and Edinburgh could see up to 5cms if the snow continues through the night."
Mr Jones said snowfall could continue past the rush hour in places tomorrow.