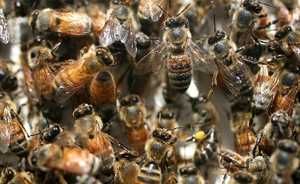 A mysterious problem that causes bee colonies to decline is once again taking its toll on the state's beekeepers.
The problem known as colony collapse disorder is characterized by a sudden drop in a bee colony's population and the inexplicable absence of dead bees.
The disorder has no known cure and appears to be cyclical. After several mild years, it has resurfaced with a vengeance, said Eric Mussen, apiculturist with the University of California at Davis.
"It never went away, but this year a substantial number of beekeepers got walloped again," said Mussen, the state's leading bee expert. "And worse than they had been hit before."
Although Mussen said it is too early to tell exactly how many bees have been lost, a bee industry official said
losses in the state vary from 30% to 80%
.
Roger Everett, a Tulare County beekeeper and president of the California State Beekeepers Association,
lost 50% of his nearly 6,000 bee colonies.
"And I consider myself lucky," Everett said.
"We thought the worst was over, but for whatever reason, it has reared its ugly head again. It is kind of scary."
Fortunately for Everett and other beekeepers, the healthy bee colonies that remain are busy pollinating thousands of almond acres.
Each year, about 1 million bee colonies are needed to pollinate the state's more than 650,000 acres of almonds. About 500,000 colonies are from California; the remainder come from out of state.
And while almond growers have reported some shortages of bees, industry officials said it appears that most growers will have enough bees to pollinate their trees.
"In the areas that I have looked at, the bees are flying strong," said Dave Baker, director of member relations at Sacramento-based Blue Diamond Growers.
Baker said it is too soon to say whether the decline in bee colonies will have any effect on yield.
At this stage of bloom development, growers also are concerned about the potential for freezing temperatures and continued rain.
Growers already have had to apply fungicides to combat moisture-caused problems such as bloom rot.
"There some growers who are applying their third spray, when normally this time of year they may only make two," said David Doll, a UC Cooperative Extension farm adviser in Merced.