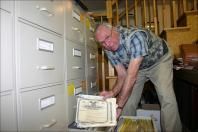 Nova Scotia hasn't OK'd licence to dig for storied treasure
Dan Blankenship is 86 and getting pretty fed up the province hasn't approved the licence that would allow him and his partners to start digging for treasure on Oak Island.
It'll be two years next June since Mr. Blankenship and his four business partners applied for a treasure trove licence. Between them, they own 78 per cent of the island, including the money pit where many believe there could be treasure.
Mr. Blankenship has a letter from 1894 in which the province first granted permission for someone to look for treasure on Oak Island. The Treasure Trove Act was introduced in 1954 specifically to deal with Oak Island, but that act is now under review.
In the meantime, Mr. Blankenship can only sit and wait.
"Without the treasure trove licence, our hands are tied, that's for sure."
He has spent the last 40 years pursuing the secrets of Oak Island, but in the last six months has started giving up on his goal. He won't say why.
"That's personal," he said, but he's clearly deflated.
The mystery of Oak Island lured him here from the United States more than 30 years ago. He has worked with various partners over the years who did have treasure trove licences, but the provincial Natural Resources Department has not approved his current application.
In the meantime, not only is he getting older, Mr. Blankenship is concerned that people don't get to experience the mystery of Oak Island.
"Oak Island is known better outside of Nova Scotia than it is in Nova Scotia," he said.
Smithsonian
magazine interviewed him for an article about Oak Island in 1988. The associate editor wrote to him in 1994 to say that article was being run again in a special edition because the magazine got more mail on the Oak Island story "than for any other story published before or since."
Mr. Blankenship ran private tours on the island for 21 years. He said he didn't get a lot of government support to do it and estimates he and his former business partner lost $35,000 to $40,000 on the venture.
"It was a very austere operation," but he enjoyed sharing the story of Oak Island.
He stopped doing those tours in 1995.
"We weren't getting co-operation from the province, so I said to hell with it. I met with every minister of tourism back into the '70s. I contacted every damn one of them to give them an opportunity to express what they'll do the next year on the island."
Although he was frustrated by the lack of interest from the province in the cultural treasure that lies on the South Shore, he said people still loved the mystique surrounding Oak Island.
"People came from every country in the world," he said.
He has stacks of guest books on one of the long tables in the basement office of his Oak Island home to prove it. Pierre Trudeau even showed up with his three sons one summer day in 1979.
"He talked with me for a good half-hour, 45 minutes, and asked a lot of good, sensible questions," Mr. Blankenship recalls.
When he and his former partner put their shares in the island up for sale about four years ago, Judy Streatch, the former MLA for the area, came out to meet with them. Mr. Blankenship told her the asking price was $8 million. Word came back to him that the province was entertaining an offer of $4.5 million, but nothing ever came of it.
Then four investors from Michigan stepped in and are now equal partners with Mr. Blankenship.
He may be disheartened about where things now stand on Oak Island. But as Mr. Blankenship talks about the island, the glint inevitably returns to his eye when he thinks about what could be here.
"I may be crazy, but I'm not wrong," he grins.