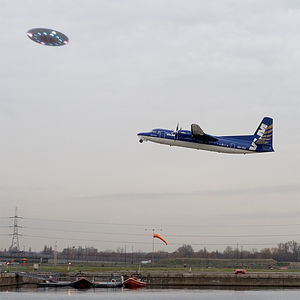 Evidence of an extraordinary UFO 'near miss' at Gatwick was unearthed this week, as the Government dusted off hitherto secret files.
In a bizarre coincidence, police also revealed a spate of UFO reports in Crawley over the weekend, just two days before the Ministry of Defence 'X-Files' were released.
Sergeant Darren Taylor of Sussex Police said they received a call on Saturday night reporting a sequence of lights moving silently in the sky above Broadfield.
He said: "We had a report from a member of the public in Broadfield on Saturday, August 15, just before midnight.
"A woman reported eight lights in the sky, moving silently in a straight line. The caller said she was an avid stargazer, and knew her stuff and was sure they were not satellites."
The latest report comes after the MOD released a treasure trove of 'close encounters' reported across the country between 1981 and 1996.
Among the most bizarre encounters was a
'high risk' near-miss between a Boeing 737 and a unidentified object at Gatwick on July 15, 1991.
According to the secret government report, a pilot coming in to land saw a 'small black lozenge-shaped object' 500 metres ahead of his aircraft and at the same altitude.